Make Your Own Rectangle Stickers
All Sizes up to 200 x 285mm
Make Your Own Rectangle Stickers
All Sizes up to 200 x 285mm
Use Our Designs and Templates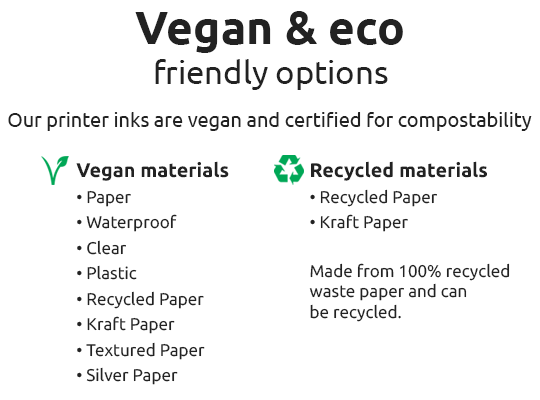 Make your own Personalised Rectangle Stickers
Rectangle stickers are ideal for wrapping around bottles or food containers, especially when it comes to listing ingredients, and are also a great choice for labelling boxes and envelopes. Whilst they may seem like a simple thing, our rectangle stickers are more than just a combination of paper and glue. Available in 12 different sizes and a variety of unique materials, rectangle stickers tend to be a popular choice amongst our customers packaging their homemade products.
From handmade jewellery boxes and honey jars to beer and wine bottles, the rectangle shape is by far one of the most versatile to choose from. We often find that our customers love to use rectangle stickers for promotional offers, business slogans and listing ingredients, as they can easily be wrapped around the product, no matter the shape or size.
Regardless of the quantity of rectangle stickers you order, each and every one will be personally checked by our passionate WePrint team, who are on hand to support you through every step of the design and print process.
Top tip
The personality of your product will play a big role on the material you choose for your rectangle sticker. However, if you want your product to look and feel sophisticated, we'd recommend choosing our white or clear plastics which are both clean and professional looking. If you'd like something more organic or rustic, our Brown Kraft Paper will suit your product perfectly.