Design Your Personalised White Vinyl & Plastic Labels & Stickers
Fast UK Delivery, Premium Service
Tough and reliable Plastic Labels and Stickers
Plastic material is white not clear
Easy to apply. Medium adhesive. On SRA4 sheets
A hardy material - withstands oil, water and ice
Eco & vegan options
Design Your Personalised White Vinyl & Plastic Labels & Stickers
Fast UK Delivery, Premium Service
Tough and reliable Plastic Labels and Stickers
Plastic material is white not clear
Easy to apply. Medium adhesive. On SRA4 sheets
A hardy material - withstands oil, water and ice
Eco & vegan options
Use our Designs and Templates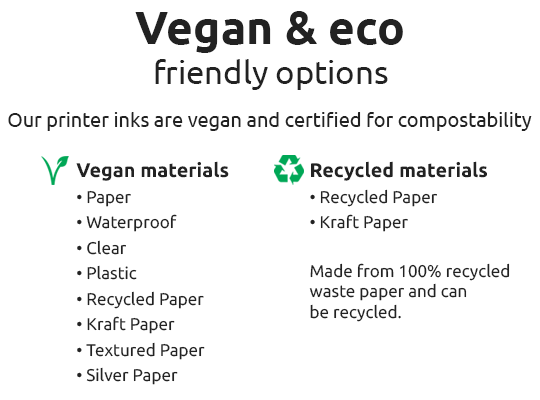 Make your own Personalised Plastic Labels
Are you a small business or individual looking to print your personalised plastic labels? From packaging your animal-friendly cosmetics or organic animal pet food and yes, even labelling grandma's homemade blackberry jam, our plastic labels could be just what you need to bring your creation to life. Plastic labels are tough, durable and extremely resistant, making them perfect for products which may get messy from time to time. Learn more about plastic or polypropylene material here.
Our plastic labels are popular among many small business owners as they are typically one of our most versatile labels. Better yet, each and every sticker can be printed right to the very edge meaning you can make full use of the space with your beautifully bespoke design.
Plastic labels are ideal for liquid products as they can be wiped down as often as you need without ruining your perfectly personalised design. The material is also known to adapt well to any smooth surface whether you're sticking to a glass jar, plastic bottle or cardboard box.
Top tip
A protective varnish is applied to each and every label to avoid any print deterioration from UV lights and reduce wear and tear, ensuring that what's on the outside lasts for as long as what's on the inside. This makes plastic labels ideal for outdoor products such as garden furniture, and cosmetic products such as anti-ageing creams, mud clay masks, lip balms and more.