Make Your Own Custom Business Stickers
Helping your brand make an impression
Professional-looking stickers to promote your business
Premium printing
10 shapes, 6 materials and 3 finishes
Easy to apply. Come on SRA4 sheets
Perfect for logos, custom product labels, stickers and messaging
Make Your Own Custom Business Stickers
Helping your brand make an impression
Professional-looking stickers to promote your business
Premium printing
10 shapes, 6 materials and 3 finishes
Easy to apply. Come on SRA4 sheets
Perfect for logos, custom product labels, stickers and messaging
Use Our Designs and Templates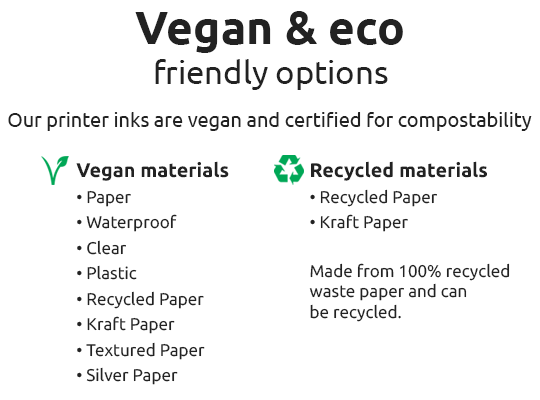 Make your own personalised business stickers
Bring along business stickers to a business conference or use stickers on your product. Let people remember you by putting your logo in front and standing out from the crowd. All our stickers look professional so you look the part. Completely personalise your stickers with a design or message, or take a peek at our templates if you need a little inspiration.
Whether your business is small or large, whether your order is small or large, we welcome all business customers to our shop. All our sticker materials have permanent adhesive meaning you can trust the stickers to both be reliable and long lasting.
We have six materials to choose from all the different properties, if you'd like a free sample pack please give us a call as we are more than happy to send one out to you so that you can make the choice and then order online. If you have any questions about the design or print process, give us a shout.