Make Your Personalised Waterproof Stickers
Our Toughest Sticker Material
Make Your Personalised Waterproof Stickers
Our Toughest Sticker Material
Use Our Designs and Templates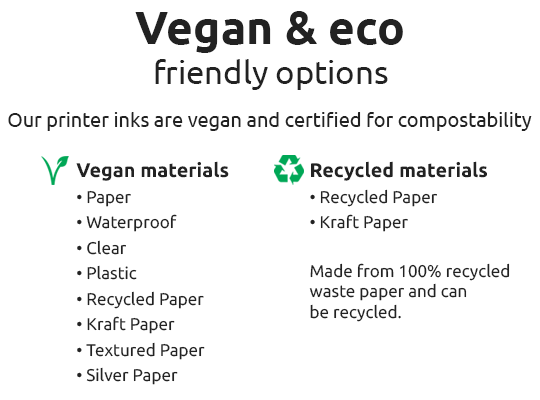 Make your own personalised waterproof stickers
Are you a small business or individual looking for personalised waterproof stickers? Completely customise your stickers with us. Our waterproof stickers are produced with a permanent adhesive which is ideal for sticking on Mailing items, Bottles, Jars, Sticky and Oily products as well as Plastic, Metal and Glass. You name it, this material is suited for it.
Waterproof stickers are great in environments which will often be exposed to moisture or chemicals, making them a perfect addition to cosmetic products and oil-based products and also science equipment! They'll even keep their cool in refrigerators or freezers.
From the top of Mount Everest to the Mariana Trench, our waterproof stickers have been created to combat the most unique environments. Withstanding temperatures between -40 and 150°C, our waterproof stickers have been tried and tested, and they keep their high quality after being submerged in seawater for 90 days! Many customers come to us looking for stickers which not only look good but also withstand specific conditions such as being subjected to harsh weather on a regular basis or the need to be of industrial strength. In all of these cases, we recommend our highly-reliable waterproof stickers to give you that much-needed peace of mind.
We understand that sometimes you need something a little different to ensure your sticker remains as reliable as the product inside. Our waterproof stickers are made from the highest quality polyethylene, making them resistant to any fading, scratching or tearing wet environments may cause.
Choose your shape, upload your design, and let us bring your creation to life. With no pressure to bulk order, you can order as little or as many waterproof stickers as you like. Each and every sticker is printed on the highest quality polyethylene and are resistant to fading, scratching or tearing.
Top tip
We find that waterproof stickers also work wonderfully with keeping bottles of Sauvignon cold in wine coolers, shampoos, lotions, and oils and make a perfect accompanying addition to outdoor products such as plant pots and outdoor furniture and equipment. Not only is the material tough, durable and perhaps most importantly, waterproof, we can guarantee that your unique design will look (and stay!) first class come rain or shine.