Personalised & Custom Jewellery Labels
Necklaces, bracelets, earrings
Customised labels for your jewellery
Premium printing
10 shapes, 10 materials and 4 finishes
Easy to apply. Come on SRA4 sheets
Perfect for logos, personalised product labels, stickers and messaging
Delivery within 5 working days
Personalised & Custom Jewellery Labels
Necklaces, bracelets, earrings
Customised labels for your jewellery
Premium printing
10 shapes, 10 materials and 4 finishes
Easy to apply. Come on SRA4 sheets
Perfect for logos, personalised product labels, stickers and messaging
Delivery within 5 working days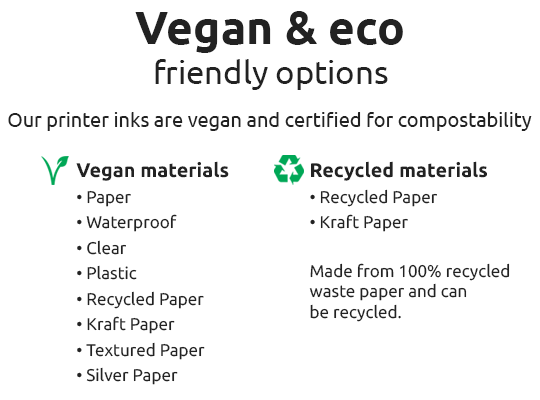 Make your own personalised jewellery labels
We help many jewellery designers showcase their products with personalised labels giving the perfect final touch. Many are small businesses looking to sell their products professionally online, in a shop or at a market. We can help find the perfect label to make your products outshine the competition.
We offer six materials in a number of different shapes and sizes. If you're looking to put a label on a jewellery pot, package, wrapping or box then we would suggest you first measure the label area and look at a range. If you're looking for a round label we offer all sizes up to 200mm.
All labels have permanent adhesive and are ideal for sticking on a variety of materials. Our cream textured paper is very luxurious, our brown Kraft looks homemade and organic, our waterproof is ideal for contact with water. Once you have your design, upload it onto the website. If at any point you have problems then please get in touch with the team, we love hearing from our customers.