Honey Labels
Give your honey the quality and professional touch it deserves with our personalised honey jar labels and stickers. Whether you're giving honey as wedding favours, selling them as a business, or as a sweet birthday gift, custom honey labels can give the best personal touch.
With a wide range of shapes, sizes, and materials, our honey labels can be customised to create the perfect design to fit your business or event.
With our Design and Print software, you can also print your personalised honey labels at home. or we can deliver them to you with FREE DELIVERY on orders over £40!
Design your Honey Labels & Stickers
We've made it easy for you to make professional honey labels for all types of businesses, events or simply to enjoy the fruits of your beekeeping. At Avery, when creating labels for selling honey, you have several options:
Our blank honey labels come in a range of different sizes and shapes to fit all types of jars. With these labels, you have the option to print at home with your Avery products! We also recommend using our Design and Print software when printing to get the best results because you can print at home. 
Looking to further personalise your honey labels? Upload your own honey jar label design from any device and customise it with different logos, colours, shapes, sizes, and more by using our customisation tool.
Take a look at our range of templates for some inspiration when designing your personalised honey jar labels. Not sure what information to put on the label? Read our honey jar label guide.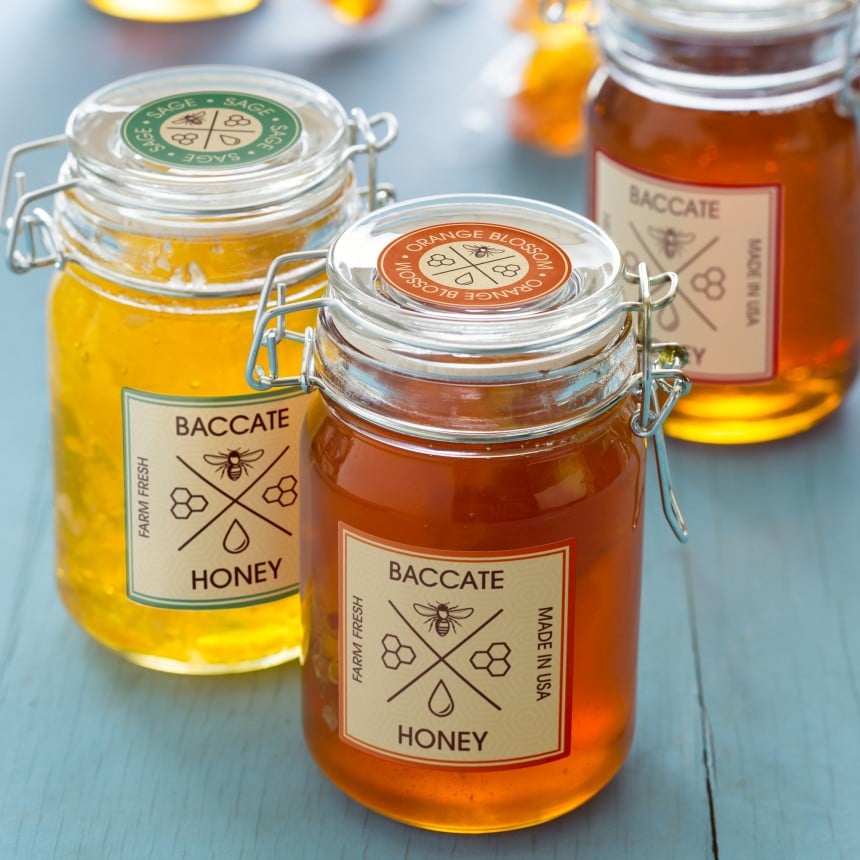 What can Honey Labels be used for?
Our honey jar labels are a great way to create a buzz and give your honey jars a high-quality finish. Our labels are perfect for all types and sizes of jars and can be customised to include logos, messages, and information.
For a more artisan feel, our recycled kraft and cream textured labels can elevate your honey labels and make them stand out from the crowd! This is perfect for wedding favours to give your guests a bit of sweetness to take home and remember your special day by!
For extra security, we also offer lid seals for your honey jars to ensure your consumers receive your honey tamper-free. Also, with our free Design and Print software, you can duplicate your front honey jar label design on your lid seal to make your honey jars look even more professional! 
If you need help with the sizing of your honey jars, you can check out our honey label size guide to choose the correct one for your product. 
FAQs
How do you make labels for honey jars?
We have made it easy and stress-free to make your own custom honey labels. You can either pick from our range of blank labels so you can print at home, or you can design your own with our free custom tool. Simply start with picking your size, shape, material, finish and quantity, then you can either upload your own design or choose from our range of free honey label templates!
What information is needed on a honey label?
Under the Food Informations Regulations 2014, there are a few requirements that need to be on honey labels:
Name and ingredients list
Net quantity
Best before or use by date
Country of origin
Name and address of the producer
If you need more help with labeling honey jars, take a look at our full guide to honey jar labels.
Should honey labels have warnings?
Due to the risk of botulism in infants, a warning label is advised to inform consumers that honey should not be given to infants under 1 year of age. Learn more about how to create warning and compliance signs.
How long does delivery take?
We offer delivery starting from £2.99 which can take from 3-5 days. However, if you need your honey labels quicker, you can opt for express delivery. Also, if your orders are over £40, you can enjoy FREE DELIVERY!