Personalised & Custom Shipping Labels
Create your own Shipping Labels
Add the Right Finishing Touch
Premium printing
10 shapes, 10 materials and 4 finishes
Easy to apply. Come on SRA4 sheets
Perfect for logos, product labels and messaging
Delivery within 5 working days
Personalised & Custom Shipping Labels
Create your own Shipping Labels
Add the Right Finishing Touch
Premium printing
10 shapes, 10 materials and 4 finishes
Easy to apply. Come on SRA4 sheets
Perfect for logos, product labels and messaging
Delivery within 5 working days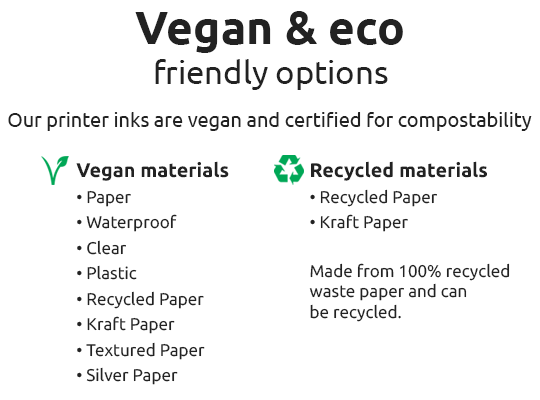 Make your own Shipping and Mailing Labels
We make many labels large enough for shipping and mailing If you want very large take a look at our A5 labels which can be used for big boxes. If you're looking for smaller shipping on mailing labels more commonly used on envelopes, then you would likely find that 80 x 45mm useful or the 76 x 51mm.
For materials, if you think your shipping mailing labels will get wet we advise you pick our waterproof labels which can withstand heavy rain, however, if you think your packages may only come across moisture then free to choose from our whole range of labels as they are all sealed with a top coat which allows them to be wipeable if moisture occurs.
If you would like to test one of our labels we offer a free sample pack with all our materials and sizes inside, get in touch with the team and we will happily send it out. Sometimes it is hard to find the correct choice on the website so this may help you.