Make Personalised A4 Stickers
Fast Delivery for A4 Stickers
A LARGE FORMAT FIT FOR ALL SURFACES
Premium printing
10 shapes, 6 materials and 3 finishes
Easy to apply. Custom labels come on SRA4 sheets
Perfect for logos, product labels and messaging
Make Personalised A4 Stickers
Fast Delivery for A4 Stickers
A LARGE FORMAT FIT FOR ALL SURFACES
Premium printing
10 shapes, 6 materials and 3 finishes
Easy to apply. Custom labels come on SRA4 sheets
Perfect for logos, product labels and messaging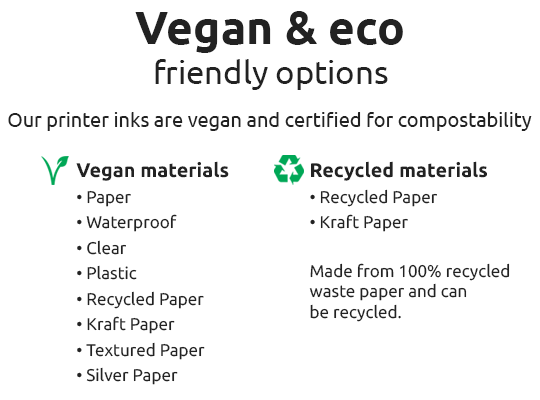 Make your own Personalised A4 Stickers
Completely customise your own A4 stickers with our online service and we'll professionally print and deliver to your door. A4 is a great versatile standard size, whether you are using them for a car bumper sticker or to go on a kitchen cupboard or window sticker. All our materials are permanent so be warned that some materials will become stuck 100% onto the surface they are applied too.
All our A4 sizes come on their own single A4 sheet which means they are easy to apply. If you are looking for a waterproof finish then clear, plastic/vinyl and waterproof are the three materials which will best suit you. These all come with matt and gloss finish apart from waterproof with no finish as it is extremely tough and hardy.
If you are interested in our material range and would like help comparing them at home before ordering then get in touch and we'll send you a material sample pack, we include all the information on finishes and best uses. Once you have picked your material then it is time to upload your image or design onto the website, if you have any questions about the design or print process then just shout, we are always hear to answer questions.