Make Your Own Food Packaging and Container Labels
Get your Food Products Professionally Labelled
Premium printing
Easy to apply. Come on SRA4 sheets
Perfect for logos, packaging seals and messaging
Delivery within 5 working days
Make Your Own Food Packaging and Container Labels
Get your Food Products Professionally Labelled
Premium printing
Easy to apply. Come on SRA4 sheets
Perfect for logos, packaging seals and messaging
Delivery within 5 working days
Use Our Designs and Templates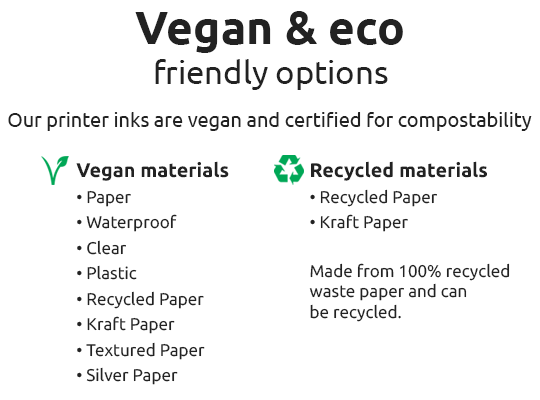 Make your own Food Packaging and Container Labels
Completely customise food packaging with labels that are custom printed  with a personalised message, logo or nutritional information. Maybe it's the New Year and you're looking to organise your plastic containers lying around the kitchen or perhaps you run a busy cafe and need to have all your food boxes labelled accurately.
All our labels are permanent on plastic surfaces so feel confident your design will not fall away or drop off. If you would like to write on top of your labels we would recommend any of our paper range. If you would instead like your labels to be very hardy and not fall away from the food containers, then we would highly recommend you add your label design to our 'waterproof' labels. Waterproof is our strongest material, great is freezers and hot weather and can come into contact with water and ice for days on end and not budge.
Next, it is probably good to check out our shape range. We have a wide range of container labels that you can stick on the front or the top to have a premium look for your fabulous organising. Round labels are our most popular, there are plenty of rectangle labels available but also have a look at out plaque shape which has one big size so you can add a logo and space for handwriting additions such as flour, self-raising flour, sugar.
Once you have worked out your design and ordered, let us print your beautifully bespoke design and deliver to your door in as little as three days. Our helpful team are always on hand give them a call if you get stuck or have any questions about materials.