Make Your Own Glass Bottle Labels
Printed in the UK, Delivered to Your Door
Enjoy labelling your glass bottles
Premium printing
Recommended materials: plastic, clear, waterproof, cream textured
Easy to apply. Come on SRA4 sheets
Bottle label size guide
Delivery within 5 working days
Make Your Own Glass Bottle Labels
Printed in the UK, Delivered to Your Door
Enjoy labelling your glass bottles
Premium printing
Recommended materials: plastic, clear, waterproof, cream textured
Easy to apply. Come on SRA4 sheets
Bottle label size guide
Delivery within 5 working days
Use Our Designs and Templates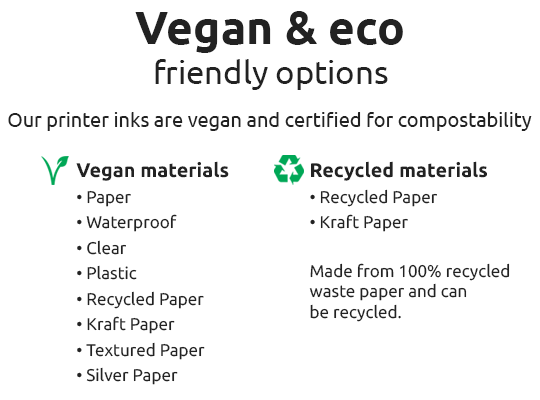 Make your own personalised glass bottle labels
Completely customise bottle labels with us. We help many customers around the UK with their customised bottle labels and it is one of our most popular customer requests! Whether your labelling glass bottles for juices smoothies, water, beer or anything else we make personalised labels to make you look professional amongst competitors. Our premium quality bottle label printing always makes a great impression. There's such a wide range of shapes, sizes and materials with us, that you're sure to find the right label for your bottles. Textured cream paper labels are perfect for drinks bottles because they're mould resistant and hold their adhesive for longer when wet. Clear or plastic labels are a great wipeable option and brown Kraft paper labels made from 100% recycled materials will give your bottles a homemade, rustic look.
All our labels have permanent adhesive. Ask yourself 'Do your labels need to be waterproof?'. If the answer is yes please look at all waterproof, clear and plastic material types. Waterproof is the most protective material where the label can be submerged in water and ice for many hours and stay professional looking (no running ink). Clear and plastic are also good but not as strong in extreme environments. If your glass bottles will not go in the water then you are free to look at all our materials including cream textured paper, paper, brown Kraft paper. All three have their own special characteristics, Paper is regular white and shows your design up vividly, cream textured is upmarket, Kraft is rustic. If you have any questions about materials and your glass bottles, just give us a call and will be very happy to help.
A bottle is nothing without the label. If you go into a supermarket or a local shop and look around there will be rows of bottled product and it's up to the label to sell that product. Choosing the correct style and shape for your labels can have a pronounced effect on user experience and interaction with your product. Have a look below to see what makes a good label and how to make yours stand out from the crowd.