Make Your Own Personalised Honey Labels
Quality Print, Fast Delivery
Professional Honey Labels
Premium printing
Note sure which size to choose? Check our honey label size guide
Easy to apply. Come on SRA4 sheets
Perfect labels for honey jars, branding and packaging
Make Your Own Personalised Honey Labels
Quality Print, Fast Delivery
Professional Honey Labels
Premium printing
Note sure which size to choose? Check our honey label size guide
Easy to apply. Come on SRA4 sheets
Perfect labels for honey jars, branding and packaging
Use our Designs and Templates
Vegan & eco options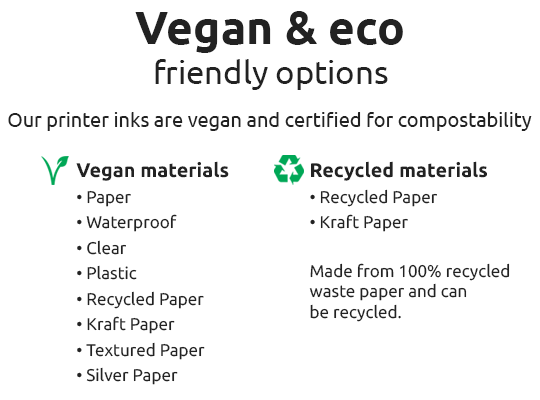 Make your own personalised honey labels
Are you selling your own honey locally or online? Let us help you look professional by adding the final touch. Take a look at our label range, we have four materials which are waterproof (clear, waterproof, cream textured and plastic labels) but feel comfortable choosing paper and brown Kraft paper as honey won't come into high levels of contact with moisture or water.
Remember if you're making your own honey labels you remember they must include: your brand name and honey ingredients, net quantity (weight not volume), best before or use by date, country of origin or place of provenance, your address. These are stated in the Food Information Regulations 2014.
Many of our honey customers also design a seal lid label which can be helpful if you want to show your honey jars are tamper-proof. It can act as a seal. We only sell lid seals in our paper materials so that they can break when a customer opens the honey. Get in touch if you would like a sample pack, we include all our materials, sizes and shapes in a guide so you can match against your jar.
If you're interested in some honey facts, there are even reports of edible honey being found in several-thousand-year-old Egyptian tombs. Honey, in the past, has been used for a multitude of reasons ranging from Sweeteners for beers and other beverages to Medical uses. There is evidence of honey being prescribed as a medical treatment as far as the ancient Mesopotamian era. Because the of the high sugar level it is basically inhospitable to bacteria, and thus it was often used as a natural bandage to protect cuts and burns from infection.
Today it may seem like things haven't changed much, we still use this substance for medical treatments, but more common uses of the golden liquid as a sweetener in our beverage and something which millions of us spread on to our morning toast.