Personalised & Custom A7 Stickers
Big selection of A7 materials
Quality Print, Fast Delivery
Premium printing
10 shapes, 6 materials and 3 finishes
Easy to apply. Custom labels and stickers come on SRA4 sheets
Perfect for logos, product labels and messaging
Personalised & Custom A7 Stickers
Big selection of A7 materials
Quality Print, Fast Delivery
Premium printing
10 shapes, 6 materials and 3 finishes
Easy to apply. Custom labels and stickers come on SRA4 sheets
Perfect for logos, product labels and messaging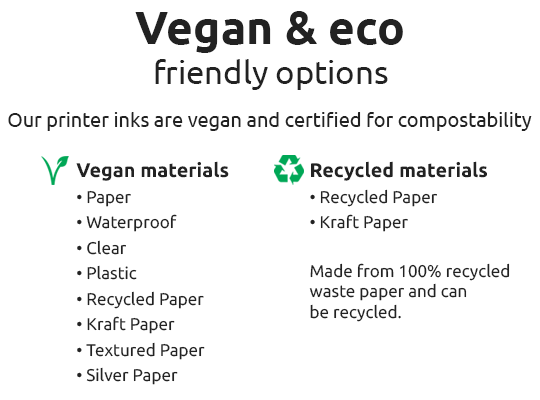 Make your own Personalised A7 Sticker
Make your own personalised A7 stickersCompletely customise your own A6 stickers with your unique design and we will professionally print and deliver. These are smaller than the normal A6 but very handy for events, brand logos are more. If you're not too sure how big an A7 sticker is then check out the A sizes online.
We offer a large range of materials which should fit all your needs. If you are looking for a waterproof material then checkout our waterproof, clear and plastic/vinyl materials. They are tough and long lasting with a professional finish added to them whether matt or gloss. We offer four paper materials which are paper, cream textured paper, recycled paper and brown Kraft paper.
Get in touch if you would like a sample pack and we'll post one, let us know if you have any questions about the print or design process. Always here to help.