Create Personalised Round Labels & Stickers
Fast UK Delivery & Premium Print Quality
Create your own Round Labels
Choose any size up to 200mm, even custom
Most popular: 40mm round paper label with gloss finish
Easy to apply. Come on SRA4 sheets
Perfect for logos, custom product labels, stickers and messaging
Create Personalised Round Labels & Stickers
Fast UK Delivery & Premium Print Quality
Create your own Round Labels
Choose any size up to 200mm, even custom
Most popular: 40mm round paper label with gloss finish
Easy to apply. Come on SRA4 sheets
Perfect for logos, custom product labels, stickers and messaging
Use Our Designs and Templates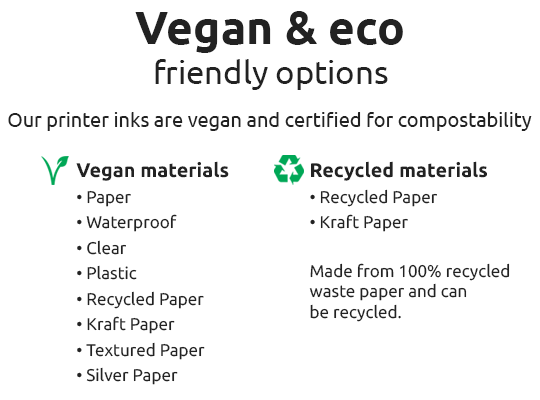 Make your own Personalised Round Label
Are you a small business or individual looking to print your personalised round labels? We work alongside 1000s of small UK companies, our custom round labels are the most popular shape amongst our customers. Our beauty customers use them for lip balms, skin care and mermaid glitter pots. Our bottle customers use them for logos and ingredients to stand out from the crowd. We offer all sizes up to 200mm diameter in all our materials.
We find round labels are a great way of adding those extra snippets of information such as special offers, allergen advice, and mouth-watering flavours. It's no surprise that they are also an extremely popular choice for printing logos onto. Once you've decided on your round label, it's time to choose the material which best complements your product. Our Brown Kraft paper is popular for organic and homemade products whilst our Plastic and Waterproof materials are the perfect addition for oils, balms and water-based products.
Get in touch if you would like a sample pack, we always love hearing from our customers and we will happily send out all our materials, sizes and shapes in a guide that can help you figure out which is best for you. Our round labels are fun, versatile, and make the perfect finishing touch. Aside from beauty products, round labels also look great on glass bottles, jars and cardboard boxes
Top tip
Our latest research shows that adding round labels with special messages to your product or parcel improves brand credibility and increases the chance of people recommending your products to friends and family. It also shows that customers find packaging with round labels more memorable.