Make Your Own Personalised Clear Stickers
Transparent Stickers for your Products
Make Your Own Personalised Clear Stickers
Transparent Stickers for your Products
Use Our Designs and Templates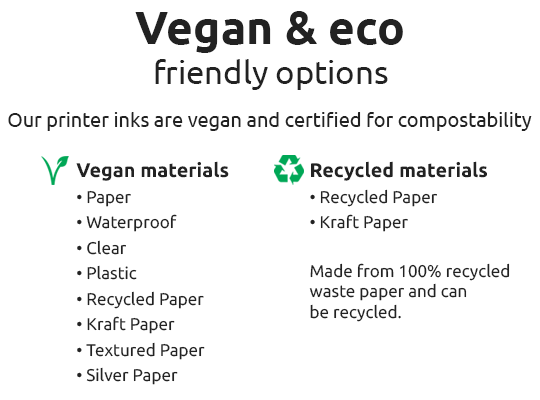 Make your own Personalised Clear Stickers
Are you a small business or individual looking for personalised clear stickers? Completely customise your clear stickers with us. Our clear stickers will work wonders if you're looking to print a custom design or shape onto your product or packaging. They are the perfect choice for printing standalone logos, and this is especially the case if your logo is complex, an unusual shape or has transparent elements. Thanks to the clear vinyl, there's no doubt your logo will be the centre of attention.
It goes without saying that because of their fabulously crystal-clear nature, our clear stickers are a great decorating tool for Bottles, Boxes and Bags, Jam jars, Coffee cups, Windows (Warning: permanent adhesive), & Wash bags. You name it, these stickers are up to the job
The versatility of these stickers are endless, they are equally perfectly suited for desk and office applications, industrial environments, or decorating a laptop. We believe in durability which is why we make sure each and every sticker is printed with fade and scratch resistant inks on a tough, heavyweight polypropylene material in a choice of matt and gloss finishes.
Top tip
Our clear stickers are obviously stronger and more durable in comparison to materials such as Paper or Cream Textured Paper. They pride themselves on their resistance to moisture and other weather elements; if you're in need of an all-climate, tough and long-lasting sticker that will be used outdoors, then our clear stickers are the one for you.
(Warning: not including exposure to extreme heat)