Design Your Own Personalised Candle Labels
Printed in the UK, Fast Delivery
Customised candle labels
Upload or choose a candle label or sticker design, choose the right shape, size, and material. We'll print and deliver it to your door
Printed in the UK on SRA4 sheets
Create custom CLP labels for your candles
Not sure what size is right? Use our candle label and sticker size guide.
Waterproof material is heat and wax resistant
Design Your Own Personalised Candle Labels
Printed in the UK, Fast Delivery
Customised candle labels
Upload or choose a candle label or sticker design, choose the right shape, size, and material. We'll print and deliver it to your door
Printed in the UK on SRA4 sheets
Create custom CLP labels for your candles
Not sure what size is right? Use our candle label and sticker size guide.
Waterproof material is heat and wax resistant
Use Our Designs and Templates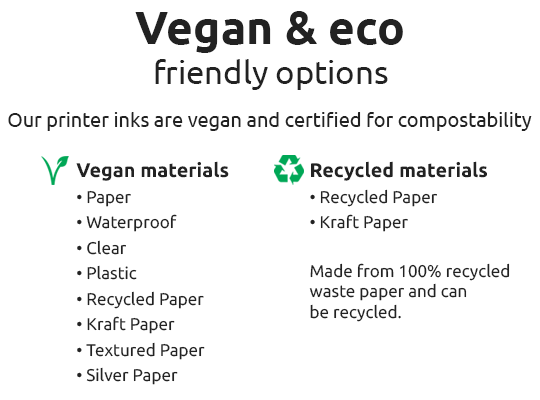 Make your own personalised candle labels
Spark some interest in your business with our diverse candle labels. Who doesn't love the way candles make a home so cosy? In recent years, handmade candles have become an essential home décor item and it's no wonder due to their sweet-smelling ambience and affordability. The good thing about candles is they can appeal to a wide range of audiences meaning you can be as creative and niche as you like when it comes to your label. Check out our customer-friends Staffordshire Candles.
Not only are candles perfect for home décor, but they also make great gifts and are perfect for celebrations such as weddings and birthdays. Our wide variety of materials and shapes allow you to accurately target those niche markets with your beautifully bespoke design which can be uploaded in seconds. Choose from personalised clear labels, the luxurious feel of our textured cream labels and many more.
As a handmade candle business, there's one thing you can do so much better than larger brands and that makes the experience personal and one of a kind. It might be a great idea to use our labels to share your handmade process and personal journey and really highlight what differentiates you from your competition.
Top tip
According to research by Kantar more than a quarter of British households now buy scented candles, and shoppers are happier to pay a little bit more for premium candles. Bear this in mind when creating your candle label. Why not make use of our more luxurious materials and finishes to complement your candle?
Candle Supply Partner
If you're looking for candle supplies including glassware, wax, wicks and diffusers then visit London Luxury Candle Supplies
CLP Regulation
The CLP Regulation ("Classification, Labelling and Packaging") is a European Union regulation that standardises the warnings that have to be on products. It has recently been decided that candles fall within the CLP Regulations so if you sell candles, you must add CLP compliant labelling. Use our templates to easily create CLP labels