Make Your Own Glass Jar Labels
Easy to design, professionally printed
Customised Glass Jar labels
Premium printing
15 shapes, 14 materials and 3 finishes
Easy to apply. Come on SRA4 sheets
Make Your Own Glass Jar Labels
Easy to design, professionally printed
Customised Glass Jar labels
Premium printing
15 shapes, 14 materials and 3 finishes
Easy to apply. Come on SRA4 sheets
Use Our Designs and Templates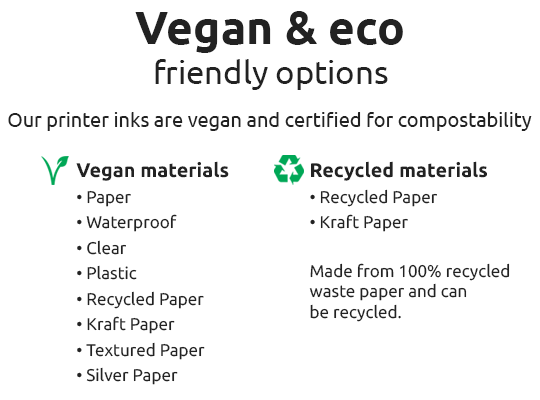 Make your own personalised glass jar labels
Are you a small business or individual looking to customise your own personalised glass jar labels? Glass jar are probably one of our most popular customer types for adding labels whether jam jar, pickles, storage, honey, spices and more. We are used to helping out many jar customers so please give us a call if you need any help, it can be difficult to measure your jar and match one of our sizes. We offer a sample pack with all our label materials, shapes and sizes which can help. 
The art of preserving food in the form of jam can be traced back to the 1st Century in the first known cookbook known as De Re Coquinaria (The Art of Cooking). In its simplest form, it was fruit heated with sugar or honey. Nowadays, jam, honey, and other spreads have taken on its own playing field with cooks experimenting with all types of new ingredients to get the next bestselling and with nearly 60 million UK consumers buying spreadable goods it's no wonder why us Brits go crazy for the stuff. Prepare for the jam-making season by taking a look at our blog.
With competition as tough as this, it's even more important to stand out from the crowd so we have taken some of the guessing work out of the picture. Below are some examples of what makes a successful label.
Top tip
Since consumers have limited attention spans, it is important for food and drink labels to be as simple as possible in their design. Our research discovered that when a simple label was used rather than a complex one, people were 5 – 10% more likely to notice it initially and spent 9 – 15% more time looking at it.