Personalised & Custom A3 Stickers
A large format fit for all surfaces
Quality Print, Fast Delivery!
Personalised & Custom A3 Stickers
A large format fit for all surfaces
Quality Print, Fast Delivery!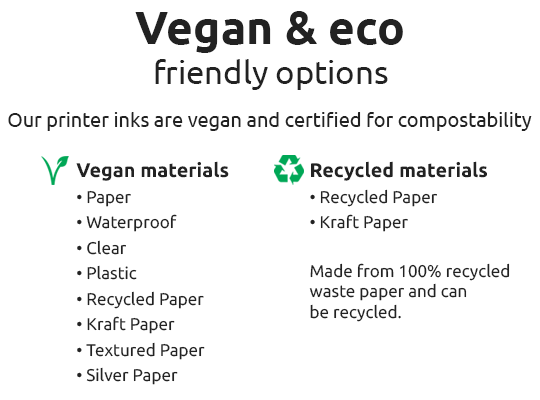 Make your own Personalised A3 Stickers
Completely customise your own A3 stickers with us and we'll professionally print and deliver to your door. All our A3 stickers are permanent so be careful what surface you are applying them to, if it is a wall these stickers could remove paint when you come to take them off.
Get started by uploading your design onto our website, if you are a little stuck for ideas and don't have a design then perhaps have a look online to find an image or picture you would like. Once you have your design, take a look at our materials. All our materials are professional which a high quality finish. If you're looking for a paper based sticker then paper, cream textured paper and brown Kraft paper are a good place to start. Brown Kraft paper is 100% recycled while our traditional paper is vegan. If you're looking for waterproof materials then clear, plastic/vinyl and waterproof are the ones for you.
If you have any questions about the materials, get in touch. We have a sample pack we send out to customers who need a little help, the sample pack as all the information you need. If there are any more questions, then pop us an email, we always love to hear from our customers.