Make Your Own Cosmetic & Beauty Labels
Create beautiful labels
Professional labels to finish your products
Premium printing
10 shapes, 10 materials and 4 finishes
Easy to apply. Come on SRA4 sheets
Perfect for logos, custom product labels, stickers and messaging
Delivery within 5 working days
Make Your Own Cosmetic & Beauty Labels
Create beautiful labels
Professional labels to finish your products
Premium printing
10 shapes, 10 materials and 4 finishes
Easy to apply. Come on SRA4 sheets
Perfect for logos, custom product labels, stickers and messaging
Delivery within 5 working days
Use Our Designs and Templates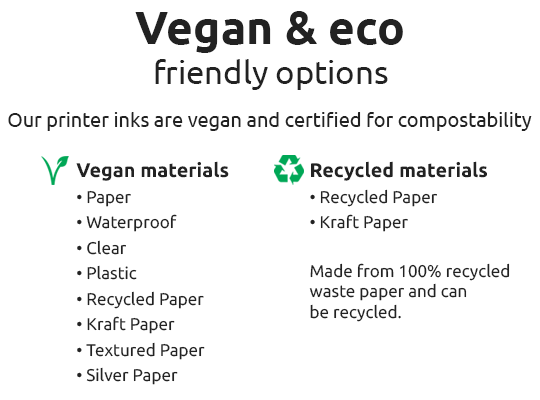 Make your own personalised cosmetic labels
We help many UK small businesses in the beauty industry, whether you have a skincare range or cosmetic line. Many of our cosmetic customers produce two types of labels, one usually goes on the front of for products such as their logo and the second goes on the back and includes their ingredients. If you're producing tester pots and samples of your cosmetics, adding a personalised label is a great way to get people to try your product and see your brand. Start by uploading your personalised brand logo onto a label and find the label size, shape, and material. If you would like a too see our cosmetic sample pack which includes all our combinations then get in touch and we can post out to you and you can match it at home against your product.
If you believe your cosmetic products will come into contact with a significant amount of water then look at our clear, waterproof, cream textured paper and plastic label materials. All our materials can withstand small amounts of water however paper and brown Kraft paper can't take much. All labels have permanent adhesive.
Remember Cosmetic Label Regulations
If your products are for sale, make sure you follow the UK regulations for cosmetic labels. Key points to be aware of are:
You need to clearly state the ingredients used
You need to show the equivalent of a best before the date for your product if your product is likely to degrade within 30 months of manufacture
Include an address within the EU (this is generally the address at which the product information file is available
It is worth thoroughly researching the cosmetic labelling requirements before planning your label design. This will make sure you have included all the necessary elements. EU cosmetic labelling requirements If you are selling your cosmetics outside of the UK and within the EU you need to be aware of the cosmetic labelling requirements for the EU, full details of which can be found at cosmetics Europe.