Make Your Own Ingredients Labels
Custom, Easy to Read, High Quality Labels
Custom labels for ingredients
Premium printing
15 shapes, 14 materials and 3 finishes
Easy to apply. Come on SRA4 sheets
Perfect for logos, product labels and messaging
Make Your Own Ingredients Labels
Custom, Easy to Read, High Quality Labels
Custom labels for ingredients
Premium printing
15 shapes, 14 materials and 3 finishes
Easy to apply. Come on SRA4 sheets
Perfect for logos, product labels and messaging
Use Our Designs and Templates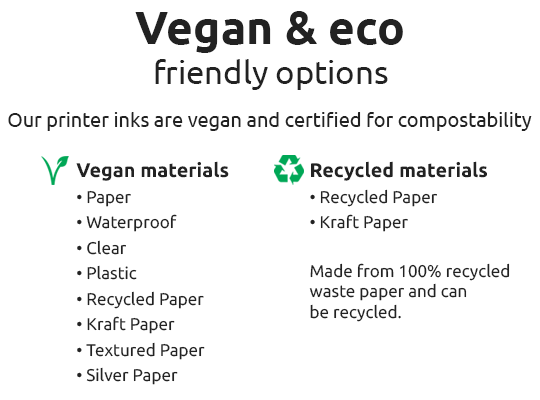 Make your own personalised ingredient labels
We help thousands of small business across the UK with their product labels. Many of them need a helping hand to look professional when they sell their products in a local market, online or in a shop. By adding all the product ingredients and allergens to your packaging or back of your product with a label, you will stand out from the crowd as a small business who takes their product seriously. Customers can get a lot of trusts. We welcome all orders large and small, many customers start by sending a small order with us to make sure they are correct with font sizes etc. which is why our prices start low.
Think about the label material you think would best suit your product. If you need help we offer a free sample pack in the post which includes all our label materials, shapes and sizes. This can often if you need to match our company materials to your product directly,
We offer six materials, three waterproof ones (waterproof, clear and plastic) and three paper ones (paper, cream textured paper and brown Kraft paper). All our round labels go up to 200mm and we have a wide range of rectangles from small up to A4. A good all-rounder rectangle label size is 80 x 45mm for pots and jars, 40mm is our most popular and versatile round.