Make your own Personalised Paper Labels & Stickers
Fast UK Delivery, Premium Service
Benefits of the Avery Print Service
Premium printing
Quality white paper. 10 shapes + 3 finishes
Easy to apply. Medium adhesive. On SRA4 sheets
Suitable for direct food contact
Make your own Personalised Paper Labels & Stickers
Fast UK Delivery, Premium Service
Benefits of the Avery Print Service
Premium printing
Quality white paper. 10 shapes + 3 finishes
Easy to apply. Medium adhesive. On SRA4 sheets
Suitable for direct food contact
Use our Designs and Templates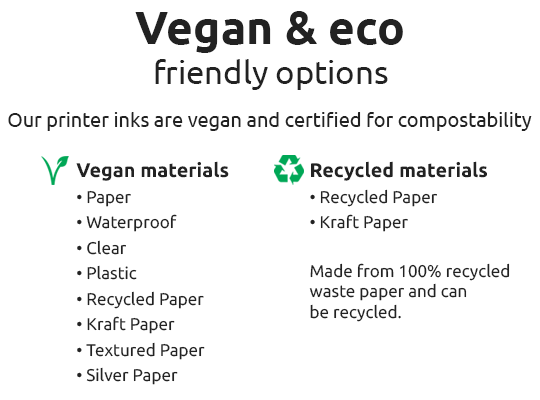 Make your own personalised paper labels
Are you a small business or individual looking to print your personalised paper labels? Often overlooked as an essential marketing tool, paper labels are an extremely effective way of promoting your brand, logo or key message to your customers. Our printing service is not only quick, efficient and easy to use, but every step is built with you and your homemade product in mind.
From hen party hangover packs to homemade birthday cards and sweet onion chutneys, our paper labels will help you to make those all-important personalised finishing touches. Not only are our labels both cost-effective and long-lasting, but they are so reliable that our customers come back to us time and time again.
We know better than anyone that what's on the outside is just as important as what's on the inside, and that a beautifully personalised paper sticker is sometimes all you need to truly bring your product to life. Get in touch with us if you would like a sample pack before place your order, this can help confirm your choice. We send our sizes, shapes and materials all together in one special envelope.
Top tip
Although our paper labels are our most popular material and our splash proof / wipeable, if you need to submerge your products in water or ice for long periods of time (bottles or bath products) we would recommend you use our 'waterproof' material. 'Clear' and 'plastic' are good middle ground materials, their ink will not run if they come into contact with water but 'waterproof' is tougher still. No matter what you are designing, if you have any final questions before placing your order get int ouch, we love hearing from our customers and are very happy to help.