Make Your Personalised Vinyl Stickers
Ideal for Everyday Use
Make Your Personalised Vinyl Stickers
Ideal for Everyday Use
Use Our Designs and Templates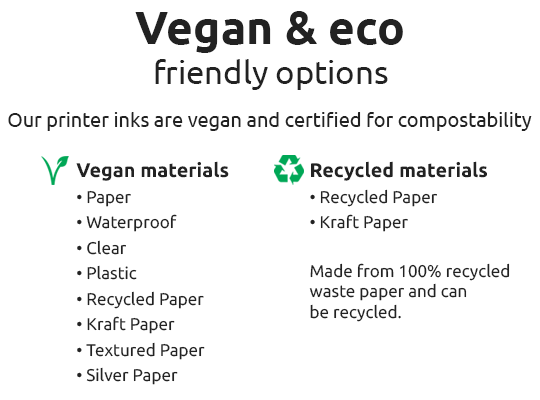 Make your own personalised vinyl stickers
Are you a small business looking for vinyl stickers which are strong and durable for nearly all everyday demands? We have a huge collection of vinyl shapes and sizes, take a look at our online sticker builder and find which sticker best fits your needs whether you only need a few or into the thousands. We start from a low minimum quantity which allows business to make a small test order or for individuals enough to only buy what they need.
Vinyl stickers are tough and durable, they are waterproof and are easy to apply as they come on A4 sheets and the very nature of the material is flexible. This means whether you are looking for vinyl stickers to put on plastic bottles or jam jars this material is top quality and popular. Whether you are a small or large business or looking for stickers yourself to use on envelopes or more everyday needs, then these are the ones for you.
If you're interested in our materials order a sample pack and we'll send you out all the materials, sticker dimensions and shapes. If you have any questions about the print process or the design part, just let us know, we're always really happy to help.