Cosmetics Labels
Do you want to make your products look professional and stylish? Our high-quality cosmetics labels can be created for a variety of shapes and sizes to fit all types of product packaging. With over 80 years of experience, our custom cosmetics labels are only created with premium quality material to make your product stand out!
Our cosmetics stickers are available in various shapes, sizes and materials which can be customised to create the perfect cosmetics label design for your unique product.
Also, by using our Design and Print software, you can also print your cosmetics stickers at home! Or if you want, we can print your makeup stickers for you in the UK and have them delivered with free delivery on orders over £40!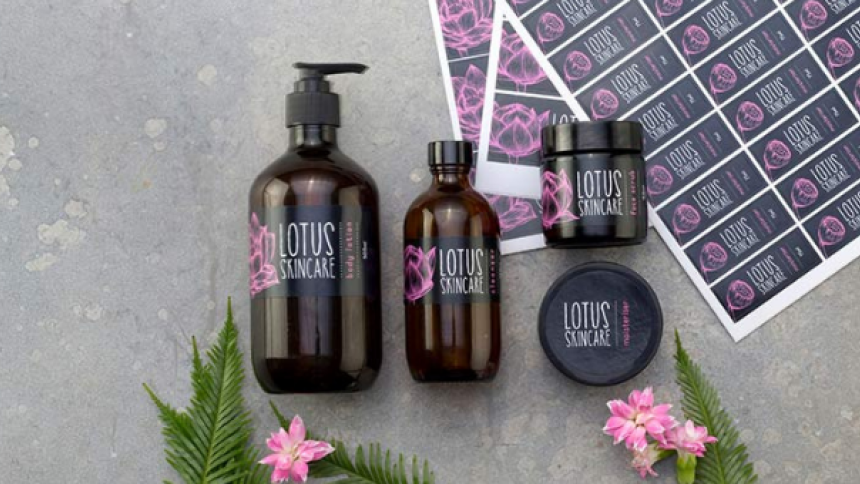 Design your Cosmetics Labels & Stickers
We understand that a label can be the winning factor when customers are picking out their cosmetic products, which is why we have made it easier for you to create the perfect cosmetics label design. At Avery, you have two options:
You can buy blank labels that range in different shapes and sizes. We also have a variety of recommended makeup and beauty sticker shapes to make it easier for you. We highly suggest using our free Design and Print software when using our blank labels to get a high-quality finish.
Upload your own design from your phone, tablet or computer on our free Design Tool. You can personalise it by picking the shape, material, size, and finish to make the perfect cosmetic label design. 
Need inspiration for your cosmetic label? Visit our range of templates, or take a look at our range of beauty label examples to see what our makeup labels are used for.
What can Cosmetics Labels be used for?
Our custom cosmetic stickers can be used to give a professional and stylish touch to any beauty product. You can create cosmetic labels and personalise them with a logo, list, or messaging. 
You can use our premium waterproof labels for any product that is meant to be kept in a wet environment. Or to enhance your jar or bottle, our clear labels are durable and waterproof yet give a stylish touch, making them the ideal cosmetic jar labels. These are perfect oil serums, shampoos, and any shower gels. 
If your brand is eco-conscious, our recycled labels are made from wood pulp and give a polished finish to any product while reassuring your customers that you are also protecting the environment.
Plus, with our Design and Print software, you can also create cosmetic labels and print them at home. We can also deliver for you where you can enjoy free delivery with orders over £40!
FAQs
Should cosmetics labels be waterproof?
If your product is meant to be kept in a wet environment like shampoos or shower gel, we recommend our waterproof labels as they are durable and damp-proof. For other products including solvents and oils, our plastic vinyl labels are perfect as they are moisture and corrosion-resistant. If you are unsure which material would fit your product, you can order our material sample pack. 
What size should cosmetic labels be?
We have a wide variety of sizes, ranging from as small as 10mm to 285mm. If you need more help in finding the right size, take a look at our cosmetic label size guide. 
What should I put on a custom cosmetics label?
In the UK and EU, you are required by law to include a list of ingredients, symbols and regulations on your cosmetic products. We have created an extensive guide to help you with industry logos, legislation advice and labelling requirements. 
What do the different symbols on cosmetic labels mean?
There are many different types of symbols that you can find on makeup labels, including:
Rabbit in a triangle - This is the Leaping Bunny Mark and indicates that a product has been approved by the Corporate Standard of Compassion for Animals.
Letter E - This stands for the product weight or volume across the average whole production batch. 
PAO Symbol - This stands for the Period After Opening and indicates how long the product can be used after it is first opened.
Take a look at our guide for labelling beauty products for more information