Make Your Personalised Round Stickers
Our most popular Shape
FAST DELIVERY AROUND THE UK
All round sizes up to 200mm
Great for all needs. 15 Shapes, 14 materials and 3 finishes
Easy to apply. Delivered on SRA4 sheets
Perfect for logos, custom product labels, stickers and messaging
Make Your Personalised Round Stickers
Our most popular Shape
FAST DELIVERY AROUND THE UK
All round sizes up to 200mm
Great for all needs. 15 Shapes, 14 materials and 3 finishes
Easy to apply. Delivered on SRA4 sheets
Perfect for logos, custom product labels, stickers and messaging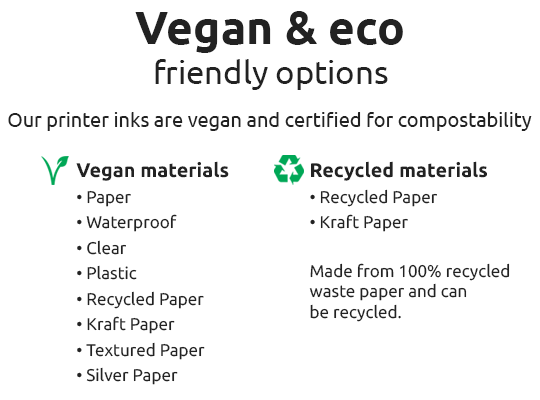 Make your own Personalised Round Stickers
Are you a small business or individual looking for personalised round stickers? Completely customise round stickers with us. We understand that behind the scenes, finding the packaging to reflect those hours spent perfecting your product isn't as simple as it seems. That's why we give you the freedom to completely customise your sticker based on your key business messages.
From our experience of working alongside 1000's of brands, we believe that round stickers are ideal for beauty products such as lip balms, but can also be a really effective way of adding those extra snippets of information such as use by dates or promotional messages. Produced with a permanent adhesive which is ideal for sticking on tubes, bottles, jars, plastic, and cardboard containers as well as packaging and envelopes. With a wide variety of the highest quality materials and finishes for you to choose from, you can completely customise your round stickers with your very own unique design.
Each with their own unique look and feel, we have a range of materials to choose from which will help your round sticker stand out. Whether you're using our brown Kraft paper stickers for your organic product, or you've decided to go for our round plastic sticker for its versatility and value for money, we will help you to get it right the first time. No pressure to bulk order! Request as little or as many stickers as you like via our quick and easy ordering system
Top tip
Our latest research shows that adding a round sticker to your parcel with a special message improves brand credibility and helps people recommend your company to a friend. It also shows that customers find packaging with round stickers more memorable.