Drink Labels
Make your product eye-catching and unique with our personalised drink labels and stickers. Whether you have a drinks business or are planning a party, custom drink bottle labels can provide a professional and stylish touch.
Our custom drinks labels are available in a range of different shapes, sizes, materials and finishes. You can also personalise your drink labels with colour, logos, names and more. Whether you're looking for beer labels or juice labels, our drinks stickers are ideal for all types of beverages!
All of our drink stickers are printed in the UK to ensure the highest quality and fast delivery, with FREE DELIVERY on orders over £40! Want to create your drink labels at home? With our Design and Print software, you can print at home.
Design your Drink Labels & Stickers
At Avery, we know that sometimes, custom drink bottle labels can be the selling point! To help you get the perfect drinks stickers, we offer two different options:
You can buy blank labels for your bottles that range in a variety of shapes, sizes, materials and finish. We definitely recommend using our Design and Print software, designed for our Avery products to give the highest quality and finish for your drinks labels.
Create personalised drink labels using our free and easy Design Tool. You can simply upload your own design, logo or message from your device and customise details such as material and finish. Whether you want personalised water bottle labels or beer labels, we've got you covered!
Are you unsure which design to use for your drink labels? Take a look at our range of templates for some inspiration.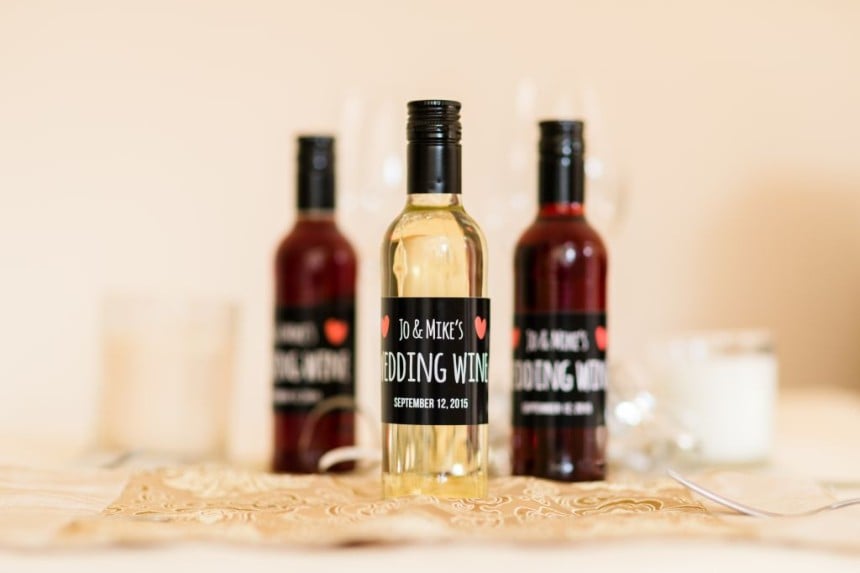 What can Drinks Labels be used for?
Our custom drinks labels can be used for a range of occasions from creating beer labels for a stag do, to making any birthday party special with juice labels.
From wine labels and gin bottle stickers to smoothie labels and water bottle stickers, whatever your beverage needs, we've got personalised drinks labels for you!
Our waterproof labels are ideal for any bottle or jar that should be kept in wet environments. You can also take a look at our speciality bottle labels for temperature and resistant labels for items that need to be chilled. Or for a no-label look, you can choose our clear labels which give a stripped-back, sleek touch. 
Our range of label materials includes recyclable, metallic, removable, vinyl and more, ensuring that there is something for every drink! If you want to see more examples of using our drink labels, take a look at our range. 
You can design your drinks stickers and print them at home with our Design and Print software. Or, we can deliver them to you and you can enjoy free delivery on your personalised drink labels with orders over £40!
FAQs
How do I print my own custom drink bottle labels?
Printing your own personalised drink labels couldn't be easier with our free Design and Print software. First, pick the material, shape, and size that you want for your custom drinks label, then create or upload your own design. You can either print them at home, or have them delivered, take a look at our Design and Print FAQs for more information.
What size should I pick for my bottle?
Our drink labels come in a variety of sizes depending on the type of drink. If you need help with finding the right size, our bottle size guide can help you with your water, beer, wine glasses and more! 
What type of stickers goes on glass bottles?
Our waterproof labels are ideal as they are water and oil-resistant. Or, you can pick from our range of materials including vinyl, textured and more! If you are unsure which material will go well with your drink labels, you can order our sample materials.
When will my bottle labels be delivered?
Our standard delivery starts from £2.99 and can take 3-5 working days. You can also choose fast-tracked delivery. On orders over £40, you will receive FREE DELIVERy! Visit our Delivery and Returns FAQs to find out more.
How much does it cost to label my bottles?
Our personalised drink labels are a cost-effective option to customise your drinks without compromising on quality. Our blank labels start at as little as £4 for 5 sheets, and many of our drink labels have a minimum order of as little as 2 sheets.