Autumn Winter 2021 Free Candle Label Templates for the Most Popular Candle Scents
In collaboration with London Luxury Candle Supplies
It's finally time to create Autumn Winter candle scents for 2021, that's if you haven't already. If you're a bit behind then not to worry, we've got 6 free candle templates for the most popular scents where you can personalise and print the stickers immediately.

We created the guide below in partnership with London Luxury Candle Supplies, a candle scent supplier with their finger on the pulse for the most popular candle scents of Autumn Winter 2021. We've taken their insight and created easy to edit, free candle label templates for 6 scents and the corresponding CLP templates.

This is your one-stop shop for Autumn Winter Candle scent research, we've got the most popular scents, pre-made designs and printing software- candle making made easy!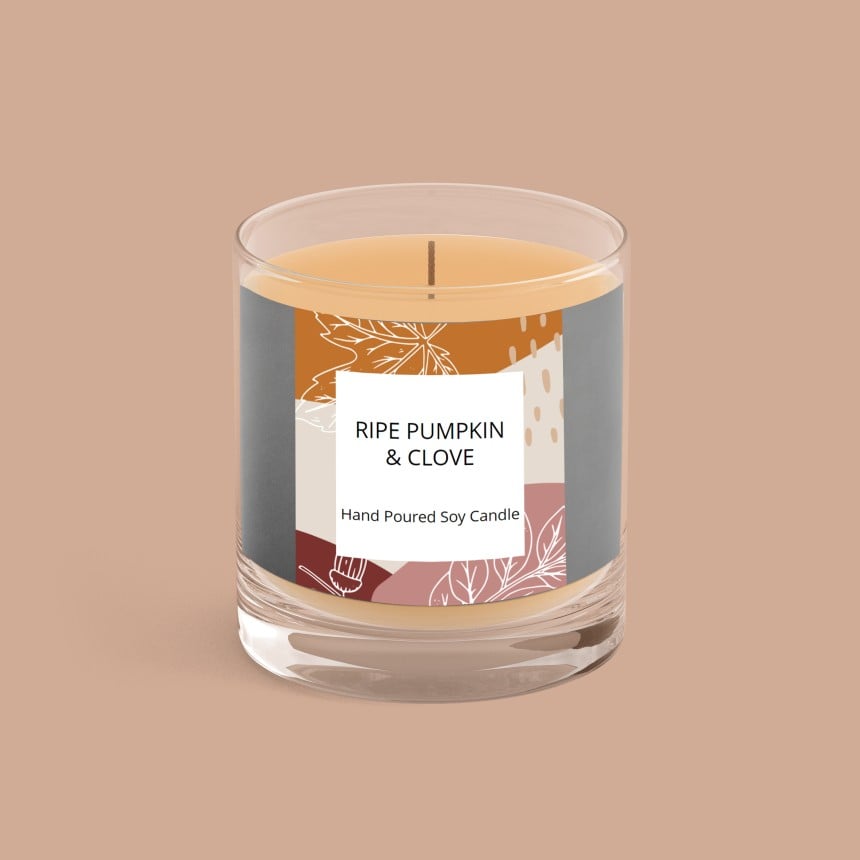 1. Ripe Pumpkin & Clove
First up is an Autumn scent that's perfect for October. The team at London Luxury Candle Supplies describe Ripe Pumpkin & Clove as " A ripe, softly seared Halloween pumpkin with notes of clove, nutmeg, apple and a touch of plum followed by creamy vanilla. " Which sounds absolutely delicious, better than a pumpkin latte!

Buy: Ripe Pumpkin & Clove Fragrance Oil; £4.85
Ripe Pumpkin & Clove CLP Templates:  
Our design for this scent was inspired by Autumn using a modern warm colour scheme, abstract background, overlayed with an illustrative design of leaves.  To bring balance to a busy background is a simple white square with a modern font that's easy to read. 

Customise this Template