Personalised & Custom Gifting Labels
Give a professional looking gift
Customise your gifts with labels
Premium printing
10 shapes, 10 materials and 4 finishes
Easy to apply. Come on SRA4 sheets
Perfect for logos, custom product labels, stickers and messaging
Delivery within 5 working days
Personalised & Custom Gifting Labels
Give a professional looking gift
Customise your gifts with labels
Premium printing
10 shapes, 10 materials and 4 finishes
Easy to apply. Come on SRA4 sheets
Perfect for logos, custom product labels, stickers and messaging
Delivery within 5 working days
Use Our Designs and Templates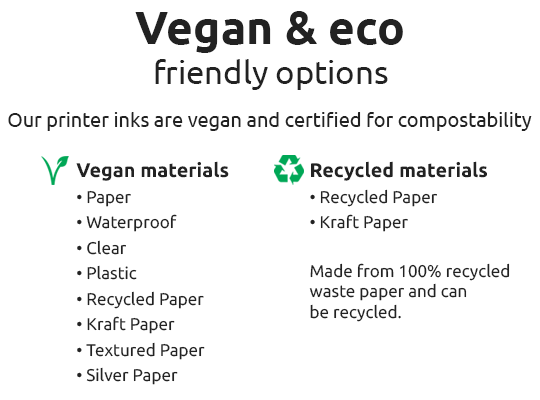 Make your own personalised gifting labels
If you are looking to make something a little extra special with gifting labels, take a look at our range of materials, shapes and sizes. Maybe you are looking to add a handwritten extra on top of the label before sending it out, we would recommend you, therefore, use one of our paper materials.
Cream textured paper is luxurious and upmarket, it has a sophisticated and traditional cream background making it look smart. Our brown Kraft label is 100% recycled with a rustic and organic brown background colour, perfect for handmade gifts. Our original plain paper is a premium and will make your colours pop. It is our most popular material, and you can see why.
Gift labels need to look special for that special person they are being gifted to, make sure you have a strong design. Once you have uploaded your design onto the label we will professionally print each one. Get in touch with our team if you need any help with the design or print process, we also have a free sample pack if you would like to test our labels.