Personalised Clear & Transparent Labels & Stickers
Premium Clear Labels, Fast Delivery
Personalised Clear & Transparent Labels & Stickers
Premium Clear Labels, Fast Delivery
Use Our Designs and Templates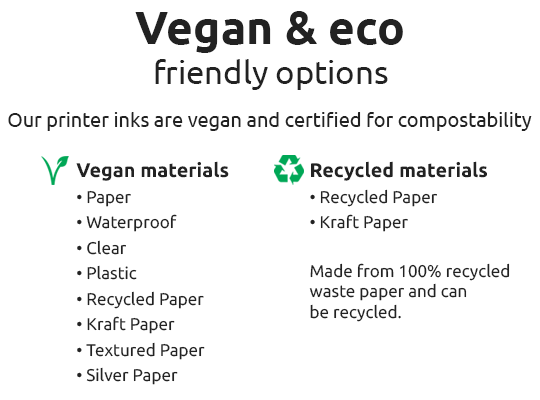 Make your own personalised clear labels
Are you looking the perfect clear label which allows your logo to steal the spotlight amongst competitors? Our transparent labels are wonderful for printing standalone logos or those which are complex, an unusual shape or have transparent elements. Under every colour we lay down an exact match of white ink to ensure that colours stand out. It's also no surprise that they are also very comfortable being outdoors.
Due to their fabulously crystal-clear nature, our labels can add that much-needed finishing touch to many different products from jams and coffees to homemade soaps. Our clear labels are versatile, trendy, and a popular choice amongst many of our Etsy sellers who run small businesses in the creative industry. They are printed with white underprint to ensure bright and vibrant colours print.
Our clear labels are more than capable for any outdoor or indoor environment. From sticky honey to decorating laptops, we're confident our labels won't let you down. Their durability is important which is why we make sure each and every label is printed with fade and scratch resistant inks on a tough, heavyweight vinyl in a choice of matt and gloss finishes.
Top tip
These labels make a trendy and unique choice for product labelling, our clear labels are much stronger and more durable in comparison to other materials, making them the ideal choice for products which may be kept outdoors or expect to be in a rough and tumble environment. Being plastic/vinyl this means they are extremely resistant to moisture and other weather elements (not including exposure to extreme heat).