Make Your Own Personalised Logo Labels
Making first impressions count
Your own logo labels and stickers
Custom labels and stickers
Premium printing
10 shapes, 10 materials and 4 finishes
Easy to apply. Come on A4 sheets
Perfect for logos, custom product labels and messaging
Delivery within 5 working days
Make Your Own Personalised Logo Labels
Making first impressions count
Your own logo labels and stickers
Custom labels and stickers
Premium printing
10 shapes, 10 materials and 4 finishes
Easy to apply. Come on A4 sheets
Perfect for logos, custom product labels and messaging
Delivery within 5 working days
Use Our Designs and Templates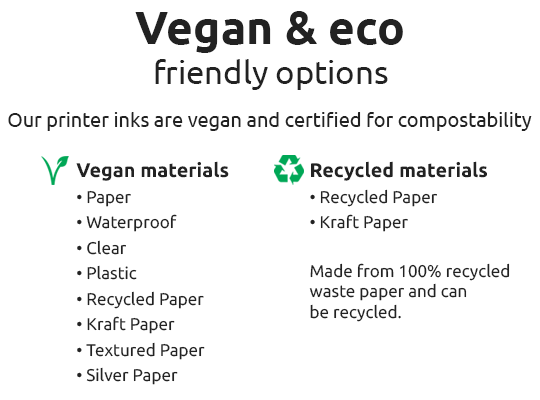 Make your own personalised logo labels
All our labels are professionally printed and fully customised for you. Logo labels are our most popular type for our customers, whether for an event or product. All our labels stick on a variety of surfaces including glass, plastic, wood, pots, jars, bottles, boxes and more.
Take a look at our range of shapes, you may be interested to test a scallop, hexagon, heart for your logo labels so that you stand out from the crow. Once your design is ready to upload, it is trendy currently to have a matt finish to logo labels so perhaps this is something you are interested in.
If you would like a sample pack to understand our range material and finish better, get in touch and we will send one out to you. We welcome all order sizes whether large or small give us a call if you need more information we are always happy to help.