Make Your Personalised Cream Stickers
Our Upmarket and Luxury Material
High-quality material with a luxurious finish
Premium material perfect for bottles
Luxury cream colour. 10 shapes + 1 finish
Easy to apply. Medium adhesive. On SRA4 sheets
High wet strength, suitable for direct food
Make Your Personalised Cream Stickers
Our Upmarket and Luxury Material
High-quality material with a luxurious finish
Premium material perfect for bottles
Luxury cream colour. 10 shapes + 1 finish
Easy to apply. Medium adhesive. On SRA4 sheets
High wet strength, suitable for direct food
Use Our Designs and Templates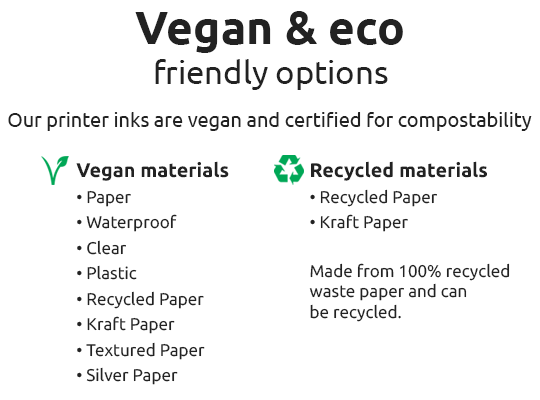 Make your own cream textured paper stickers
Are you a small business or individual looking for personalised cream stickers? Completely customise your cream stickers with us. Hands up if you've landed on this page looking for a premium sticker to complement your very own premium product? The good news is, you're in the right place. Our textured cream paper stickers live up to all expectations with their beautiful high-quality design and finish. Our customers tell us that the ornate material is extremely eye-catching and adds a touch of exclusivity to their products.
Its luxury cream colour makes it a splendid choice for wine bottles, and it's water-resistant, ensuring that each label survives inevitable splashes, but it's also resistant to splashes from oil and other greasy substances. Be distinctive with premium textured cream.
There's no one who knows your target customer better than you, which is why we allow you the flexibility to design your sticker entirely and upload it easily using our online tool. All that's left to do now is leave it with us to transfer your design onto our beautifully textured cream paper stickers.
Top tip
The base of our textured cream paper stickers creates a beautiful canvas for thought-provoking messages, logos and listing ingredients. We find that the organic look and feel is especially popular amongst some of our environmentally-friendly customers who want their material to be a cut above the rest.