Make Your Personalised Recycled Stickers
Made from 100% Recycled Paper
Make Your Personalised Recycled Stickers
Made from 100% Recycled Paper
Use Our Designs and Templates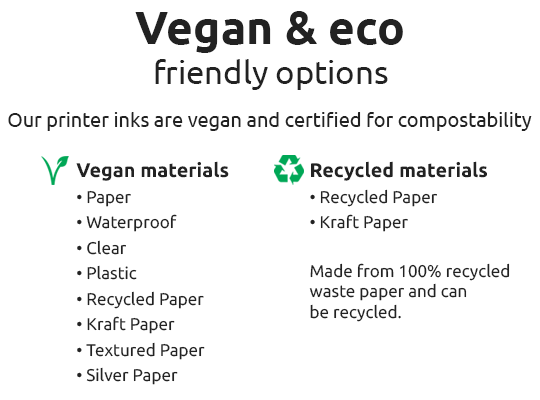 Make your own personalised recycled paper stickers
Our material is perfect for all situations, making this eco-friendly, recyclable and biodegradable sticker perfect for you! You will find this paper has small flecks which give off an even stronger vibe of eco-friendly. These very small touches make it look authentically ethical to customers.
Impeccable for logo stickers and organic themed products like cakes and honey. The advantage of using a recyclable sticker is for when you're holding events where the likelihood of people dropping things on the floor (like at a festival) or where the odds of your product being recycled is high. This material is popular for customers who are looking to sell their product as recyclable or 100% biodegradable, apart from our Brown Kraft paper this recycled is the other premium paper we offer that has bio-friendly.
If you would like to see who this paper looks different from our regular white paper then get in touch and we'll send you a full sample pack in the post which will clearly show you the difference, you can then work out your perfect match. If you have any questions regarding the print or design processes, then give us a call and we'll let you a hand. We always love hearing from our customers!