Personalised & Custom A6 Stickers
Time to begin your A6 stickers
Quality Print, Fast Delivery
Premium printing
10 shapes, 6 materials and 3 finishes
Easy to apply. Custom labels and stickers come on SRA4 sheets
Perfect for logos, product labels and messaging
Personalised & Custom A6 Stickers
Time to begin your A6 stickers
Quality Print, Fast Delivery
Premium printing
10 shapes, 6 materials and 3 finishes
Easy to apply. Custom labels and stickers come on SRA4 sheets
Perfect for logos, product labels and messaging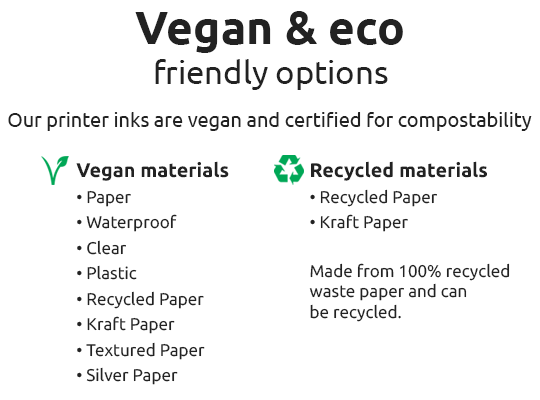 Make your own Personalised A6 Stickers
Completely customise your own A6 stickers with your unique design and we will professionally print and deliver. These are smaller than the normal A5 but very handy for events, brand logos are more. Take a look at our material range to find the right fit for you, we offer three paper materials: original paper, brown Kraft paper which is fully recycled and cream textured paper which has a premium look.
Start by uploading your own JPEG, PGN of PDF onto our website and it will automatically adjust to the sides perfectly. Remember to leave at 2mm bleed on all your stickers so that the factory has enough space to cut your design out and not show any white.
If you would like a sample pack of materials and sizes then please get in contact with us, we always love to hear from you. We can also help answer any questions you have about print or design process, always here to help.