Design Your Own Personalised Vegan Stickers
We offer 7 Vegan Sticker Materials
Design Your Own Personalised Vegan Stickers
We offer 7 Vegan Sticker Materials
Use Our Designs and Templates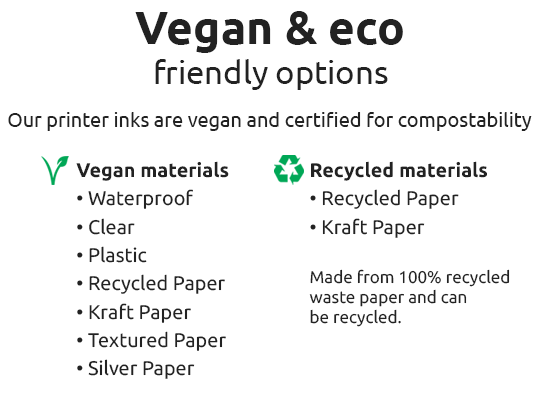 Sticker material overview
Make your own personalised vegan stickers
Are you looking for stickers made from vegan materials? You've come to the right place. We are a UK print service who print stickers for Etsy sellers, small businesses and people whether a small or large print run. We have 7 vegan sticker materials: clear stickers, waterproof stickers, plastic stickers, cream textured paper stickers, brown Kraft paper stickers, recycled stickers and silver stickers. All our vegan materials come in all sorts of sizes and shapes we offer on our website.
Customers ask why our paper stickers and removable paper stickers are not vegan. Both materials have a cow coating applied as the top coat. Currently there is no vegan alternative but we are looking into this.
Have you got any questions about vegan stickers? Either send in for a sample pack so you can take a look at the materials before ordering or give us a call and we can talk you through your options.