Design Your Own Vegan Labels
8 Vegan Label Materials
Design Your Own Vegan Labels
8 Vegan Label Materials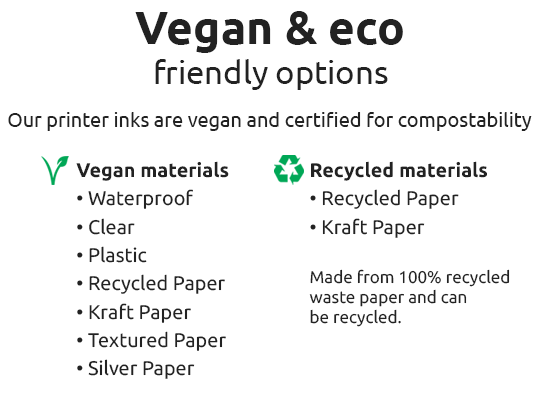 Make your own Personalised Vegan Labels
Are you a small business or individual looking to print your personalised designs on vegan labels? We offer eight vegan materials: clear labels, waterproof labels, plastic labels, cream textured paper labels, brown Kraft paper labels, recycled labels,  silver labels and gold labels  All of these materials come in all shapes and sizes including our most popular 40mm round.
If it is of interest our paper labels and removable paper labels are not vegan as they have a cow coating applied as the top coat. Currently there is no vegan alternative but we are looking into this.
Order a sample pack and look at our vegan label materials at home so you can get an idea of what they look and feel like before you purchasing them. If you have any questions, get in touch with our team. This is the most common and popular question asked so we have most of the answers to any requests you may have.