Make Your Own Oil & Vinegar Labels
Make your bottles stand out
Custom labels for glass bottles
Premium printing
15 shapes, 14 materials and 3 finishes
Easy to apply. Come on SRA4 sheets
For oil products use waterproof, clear or plastic materials
Delivery within 5 working days
Make Your Own Oil & Vinegar Labels
Make your bottles stand out
Custom labels for glass bottles
Premium printing
15 shapes, 14 materials and 3 finishes
Easy to apply. Come on SRA4 sheets
For oil products use waterproof, clear or plastic materials
Delivery within 5 working days
Use Our Designs and Templates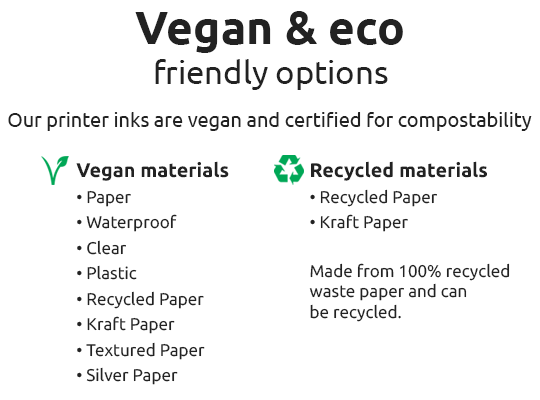 Make your own personalised oil and vinegar labels
Are you a small business or individual looking to customise your own olive oil and vinegar labels? We help many small businesses sell their bottles of oil and vinegar at local markets, online or in a shop. Many customers choose to have 'clear' labels as the transparency means you can see through to the oil while placing your logo or product information over the top. On clear labels, we print an extra layer of white underneath your design to make sure the label contents show up bright and vividly.
You may also like to look at paper, cream textured paper or our brown Kraft paper is you would like a biodegradable label material. All three have different background colours - cream looks premium and commonly seen on wine bottles. Paper and is our most popular material as it is so versatile. Brown Kraft paper is ideal for homemade or rustic looking products such as handmade candles or paper bags. It's made of 100% recycled paper and our most eco-friendly label choice.
If you have any question about the design or print process for your oils then get in touch with us, we always love hearing for our customers. We can send out a free sample pack if you need help, it includes all our materials, sizes and shapes.