Make Your Own Chocolate Labels
Add the final touch to your chocolates
Premium printing
15 shapes, 14 materials and 3 finishes
Easy to apply. Come on SRA4 sheets
Perfect for logos, custom product labels, stickers and messaging
Delivery within 5 working days
Make Your Own Chocolate Labels
Add the final touch to your chocolates
Premium printing
15 shapes, 14 materials and 3 finishes
Easy to apply. Come on SRA4 sheets
Perfect for logos, custom product labels, stickers and messaging
Delivery within 5 working days
Use Our Designs and Templates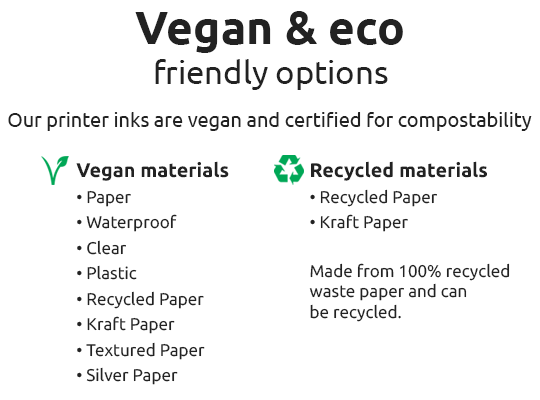 Make your own personalised chocolate labels
Are you a small business or individual looking to customise your own chocolate product labels? Perhaps you want to add your own personalised logo label to your chocolate packaging or the front of the chocolate wrapping. We help many UK businesses design a professional label that adds the perfect high-quality finish to the product for selling online, in a local market or in a shop. Our chocolate labels are completely customisable from start to finish to bring life to your product. Include your logo, ingredients and messages to share with your customers.
We would highly recommend you take a look at our paper label range for chocolates. If you make chocolate gifts, bars or truffles they are often a very crafty present. In that case, perhaps take a look at our brown Kraft paper, this material looks rustic and homely. Don't be put off by the brown, it is only very light brown and we add extra ink to this label material to make sure your design is very vivid. Brown Kraft paper is popular amongst handmade small business. There is also the cream textured paper which is ideal for a customer who wants a more upmarket look. The paper is bumpy and often seen on wine bottles if you added a logo to cream textured and placed it on the front of your chocolate wrapping you would certainly look more professional and top tier.
If you have any questions about which material would suit your chocolates best, then please get in touch with us. We have all our labels in samples so we can send you a collection out for free so you can match against your product or wrapping you will use. Many of our chocolate customers place small orders, to begin with, to make sure their design is perfect (font size) feel free to do the same before placing your final order.