Personalised Spice, Chilli and Herb Labels
For your special blends
Premium printing
15 shapes, 14 materials and 3 finishes
Easy to apply. Come on SRA4 sheets
Perfect for logos, product labels and messaging
Delivery within 5 working days
Personalised Spice, Chilli and Herb Labels
For your special blends
Premium printing
15 shapes, 14 materials and 3 finishes
Easy to apply. Come on SRA4 sheets
Perfect for logos, product labels and messaging
Delivery within 5 working days
Use Our Designs and Templates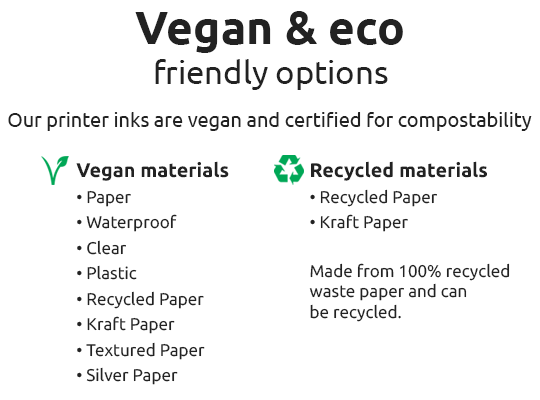 Make your own spice, chilli and herb labels
Are you a small business or individual looking to customise your own personalised spice, chilli and herb labels? We offer a wide range of materials, sizes and shapes to fit glass spice jars or a chilli sauce bottle or herbs. If you have a little jar, then look perhaps at a 30mm square label which you could put on the front. Maybe look towards our round logo labels if you're looking to add your design to the bottle top.
You might be interested in our 'tamper proof' labels. These have a round head and a long tail, place the label on the jar bottle top and stretch the long tail down the neck of the bottle. Tamper-proof labels are a nice way to upsell your products as you look professional and customers can trust the product is fresh and sealed. We have examples of seal labels, get in touch and we will happily send you a sample and some previous customer designs for inspiration or understanding.
We recommend you choose one of the waterproof labels if you think your product will come into contact with large amounts of water (see waterproof, clear or our plastic labels). Perhaps however waterproof resistant labels are not strictly necessary for your herbs and in that case please look at all out label materials (including the paper range) for your personalised paper labels. The cream textured label is particularly professional if you are selling your products at a higher price, you will stand out from your competitors.