Make Your Personalised Promo Stickers
Catch their eye
Promote your sales with eye-catching stickers
Premium printing
10 shapes, 6 materials and 3 finishes
Easy to apply. Come on SRA4 sheets
Perfect for logos, custom product labels, stickers and messaging
Make Your Personalised Promo Stickers
Catch their eye
Promote your sales with eye-catching stickers
Premium printing
10 shapes, 6 materials and 3 finishes
Easy to apply. Come on SRA4 sheets
Perfect for logos, custom product labels, stickers and messaging
Use Our Designs and Templates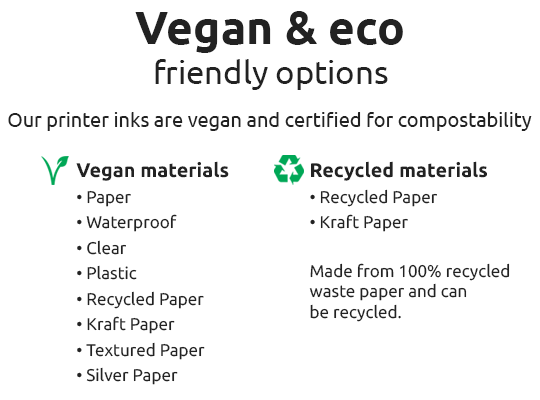 Make your own personalised promotional stickers
You can completely customise your own promotional stickers, you have hundreds of sizes to choose from and many materials and shapes, so get started and tell the world about your promotion. Whether you're running a small or large business we try our best to offer low minimum order quantities so that you can test out our range before ordering a larger quantity. Whether you are looking for discount stickers or sale stickers take a look at the small round sizes.
With shapes maybe you would like to try something a little different, most of our customers tend to choose circles as their promotional sticker choice but if you would like to stand out from the crowd maybe consider using a scallop, heart or hexagon to be more eye catching. It doesn't matter what shape of sticker you choose, all the stickers have professional adhesive meaning they all reliable and long-lasting.
With offer six materials, customers most commonly pick paper however look at brown Kraft paper if you'd like 100% recycled or cream textured paper if you would like something upmarket. Give us a call if you'd like a free sample pack sent to you, we enclose is all our materials, shapes and sizes so you can make the choice at home before purchasing online.