Make Your Personalised Wedding Stickers
A special occasion needs a special sticker
Make your wedding the perfect day with premium stickers
Custom stickers
Premium printing
10 shapes, 6 materials and 3 finishes
Easy to apply. Come on SRA4 sheets
Perfect for logos, custom product labels and messaging
Make Your Personalised Wedding Stickers
A special occasion needs a special sticker
Make your wedding the perfect day with premium stickers
Custom stickers
Premium printing
10 shapes, 6 materials and 3 finishes
Easy to apply. Come on SRA4 sheets
Perfect for logos, custom product labels and messaging
Use Our Designs and Templates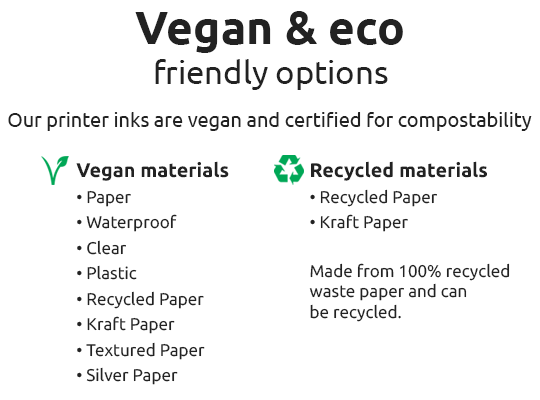 Make your own personalised wedding stickers
So you've got a wedding around the corner and you're looking for stickers or wedding favours adding that little something special. Look no further, you've come to the right place. Our stickers are perfect for messaging or adding two names, all our stickers have strong adhesive meaning they apply well to jars, glass bottles, homemade gifts and greeting cards; equally, we have a collection of CLP stickers- perfect for personalised candle or wax melt labels. If you are looking to print wedding favours, bottle labels or shot stickers then choose from our six materials and we deliver in 3 to 5 working days. Either upload your pre-existing design or create your own on our website. If you have any questions, give us a call and we'll be happy to help.
We have over 200 round stickers and many rectangles, squares, overalls shapes to pick from. You may even like to try a heart shape, completely customised with your own unique design to give that something special. Take a peek at our templates for a little inspiration.
We have six materials to pick from. Cream textured paper is perfect for an upmarket and luxury label, some would say perfect for a wedding. If you would like a sample pack please get in touch and we will post one out to you, they are free and can often help decide if you are not quite sure.