Personalised & Custom Florist Labels
Add branded labels to your flowers
Nothing beats the finishing touch
Premium printing
10 shapes, 10 materials and 4 finishes
Easy to apply. Come on SRA4 sheets
Perfect for logos, custom product labels, custom stickers and messaging
Delivery within 5 working days
Personalised & Custom Florist Labels
Add branded labels to your flowers
Nothing beats the finishing touch
Premium printing
10 shapes, 10 materials and 4 finishes
Easy to apply. Come on SRA4 sheets
Perfect for logos, custom product labels, custom stickers and messaging
Delivery within 5 working days
Use Our Designs and Templates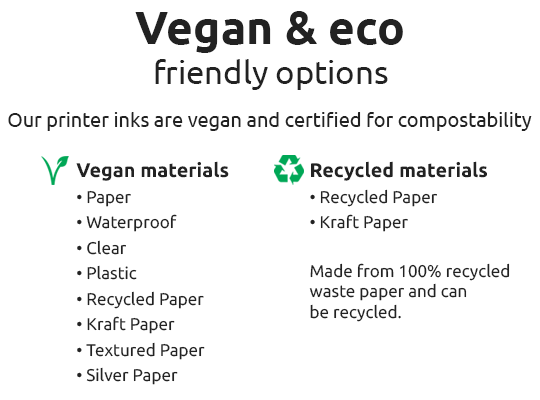 Make your own personalised florist labels
Whether you run a local town florist or provide an online florist service for events and weddings we help many small UK businesses print their professional brand logo labels. Most of our floral businesses upload their logo or a small flower icon to make a label. Most of them use labels to seal the paper around a bunch of flowers, on the packaging or on the envelopes they send out. Fully customise your label to have a design you would like.
Take a look at our label material range. We offer a good paper range. Our 'paper' is our most popular as it's so versatile, our 'cream textured paper' is bumpy and upmarket and our brown Kraft paper has a rustic organic-looking light brown base colour, made from 100% recycled paper. Look at your product and see what suits before, perhaps get inspiration online where you can find a label which you would like to replicate.
Once you have finalised your design, upload it onto our website and pick your label. We try and send out all our print work in three working days, we try to be as reliable as possible which means many businesses see as their trusted florist print partner. If you have any questions about the design or print process then please get in touch. We also offer a free sample pack which includes a swatch of our label materials, a shape and a size guide. This might help you decide at home against your product.