Personalised & Custom Durable Labels
Strong, Resilient Labels for all Conditions
Use our Waterproof Material
Premium printing
10 shapes, 10 materials and 4 finishes
Easy to apply. Come on SRA4 sheets
Perfect for logos, product labels and messaging
Delivery within 5 working days
Personalised & Custom Durable Labels
Strong, Resilient Labels for all Conditions
Use our Waterproof Material
Premium printing
10 shapes, 10 materials and 4 finishes
Easy to apply. Come on SRA4 sheets
Perfect for logos, product labels and messaging
Delivery within 5 working days
Use Our Designs and Templates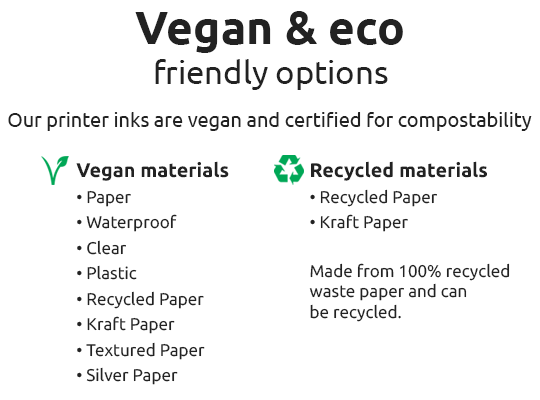 Make your own Personalised Durable Labels
We offer a very hardy durable label with outstanding properties against temperature and chemical resistance. Our waterproof material is our number one material for anyone looking for a durable label that is long-lasting and permanent.
Most of our customers use our durable labels for industry including factory or chemical labels. We also have customers who use waterproof for outdoor activities such as events and have contact with water. Our waterproof labels are perfect for bottles as they can be submerged for hours at a time in water or ice.
We offer a free sample pack. If you would like to check all materials, shapes and sizes against your products then just let us know we will happily send one out to you.