Make Your Own Personalised Lip Balm Labels
Stand out in the lip balm crowd
Professional-quality labels for your lip balm
Premium printing
10 shapes, 10 materials and 4 finishes
Easy to apply. Come on SRA4 sheets
Perfect for logos, custom product labels, stickers and messaging
Delivery within 5 working days
Make Your Own Personalised Lip Balm Labels
Stand out in the lip balm crowd
Professional-quality labels for your lip balm
Premium printing
10 shapes, 10 materials and 4 finishes
Easy to apply. Come on SRA4 sheets
Perfect for logos, custom product labels, stickers and messaging
Delivery within 5 working days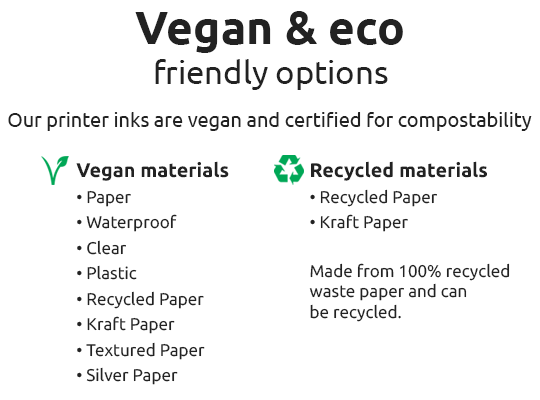 Make your own personalised lip balm labels
Do you sell watermelon or honey bee lip balm? Are you looking for personalised labels to make your lip balms look professional? You've come to the right place. We help many small beauty businesses around the UK fully customise labels making them look shop ready. Whether you're selling online, to friends and family or in a little market stall we are a reliable trusted print partner who can supply all your label needs for your products. We send all our labels out fast (three working days) as we know it's important to receive your customised lip balm labels on time and before your big selling days. All our labels are permanent and come on A4 sheets so they are easy to apply to plastic or aluminium lip balm pots. Whether you are looking for a small batch for personal use or a large number, we offer both small and larger order runs.

We would recommend you take a look at our 40mm round. It is by far our most popular size with our customers for the top of lip balm pots. Then take a look at our materials. If you think your lip balm will only come into contact with a little bit of moisture then pick freely from all our materials as we add a protective coating so the ink will not run, our customised paper labels are a favourite. If you want your label to be fully waterproof then take a look at our waterproof labels.
If you think your lip balm will likely live in someone's handbag and get knocked around we would highly recommend the waterproof material, it is by far our strongest and toughest material which is permanent and can withstand a high level of daily bashing. We know it can be hard to decide which material best suits you, get int ouch and we'll send you our free label sample pack, we always love hearing from our customers.