Hospitality Labels and Event Stickers
Hospitality labels and event stickers are simple but effective event accessories to add something different to your event. Our event stickers and labels can be designed for any purpose, including for branded corporate events or for smaller more intimate gatherings looking for event decoration accessories. Whether you want to use your hospitality labels for name badges, contact information or anything else, we offer various design options to ensure that our hospitality labels are as multi-purpose as possible.
With our Design & Print software, you can create your hospitality labels and print them in-house, using our Blank Labels and Printer Labels
Design Your Hospitality Labels and Event Stickers
Event decoration accessories, such as event stickers and hospitality labels, may be smaller details, but they're an important piece of a larger puzzle when it comes to completing an event. They make the ideal finish touch and will make guests remember your event for a long time to come, so it's important for them to be right, which is why we offer two design options that you can choose from:
Our Avery Design & Print. This is our free online design service with templates available if you need inspiration for your event stickers. 
Own design upload. If you already know what you want your hospitality labels to look like, you can upload your own design to our site. We accept any image or PDF file.
Check out our free templates to start thinking about what your personalised hospitality labels could look like.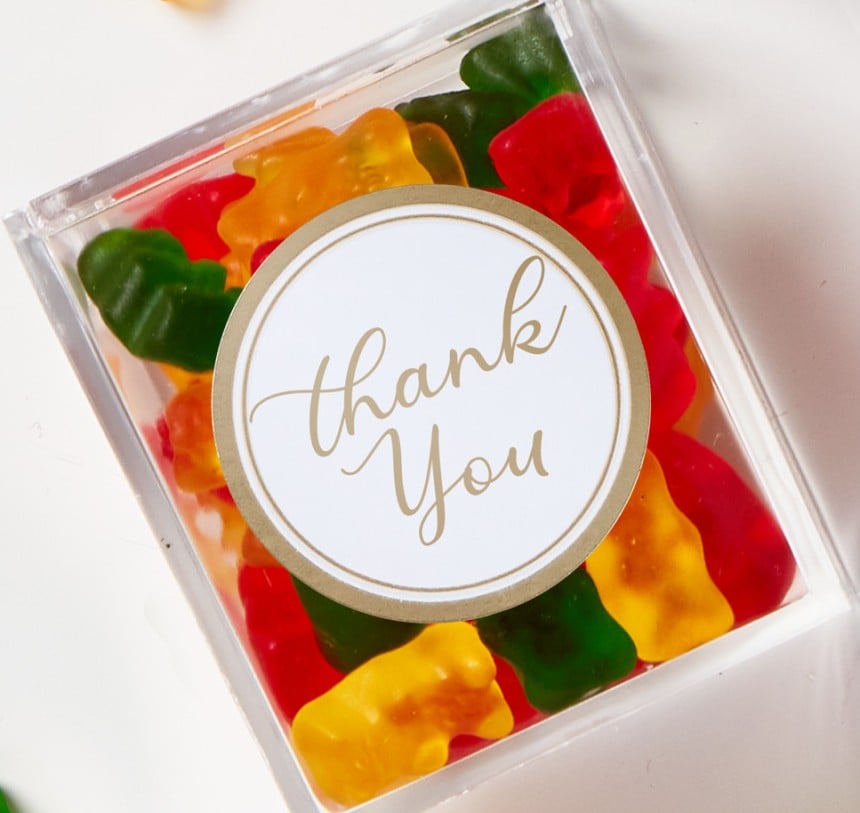 What Can Event and Hospitality Labels be Used for?
Hospitality labels and event stickers have many uses. Whether you're looking for event decoration accessories for hosting a wedding, baby shower, christening, or any other intimate event, or if you're looking for labels for a corporate event or conference, we have options available for you.
Our hospitality labels and event stickers come in a variety of materials including eco-friendly, transparent, and waterproof options to suit a range of purposes.

Our range of different shaped stickers adds another element of personalisation. Our heart-shaped labels are perfect for intimate occasions, whereas our square, oval, hexagonal, and rectangular hospitality labels are ideal for more professional and corporate events.
If you need your labels instantly, we give you the option of printing at home with our Design & Print software. However, you can still receive fast delivery to your door if you don't want to print in-house. You'll receive your hospitality labels within 3-5 working days.
FAQs About Our Hospitality Labels
How do I print my event stickers at home?
You can print your personalised hospitality labels at home using our Design & Print software. We don't want you to waste your resources printing and re-printing your event stickers if it doesn't go to plan when you print at home. That's why we put together our Tips for Printing at home so that the process is easy and stress-free.
How do I design my own labels through Avery Design & Print?
If you have your own ideas for your hospitality labels, you can upload images and designs straight to our website. However, if you're unsure what type of label for hospitality to use, you can take a look at our free templates on our Avery Design & Print Service. 
Once you've chosen your design, we have lots of demos and tips available in our Design and Printing Hub so that you get the exact result that you're looking for! Otherwise, you can contact our customer service team who are more than happy to answer any questions.
Do you offer any faster delivery services?
We offer an express delivery option on selected products which means your product will be dispatched on the day of order (if ordered before 12pm Monday-Friday) and delivered within approximately 2 days of dispatch from our factory.