Make Your Own Personalised Square Labels & Stickers
All sizes up to 200mm
Make Your Own Personalised Square Labels & Stickers
All sizes up to 200mm
Use Our Designs and Templates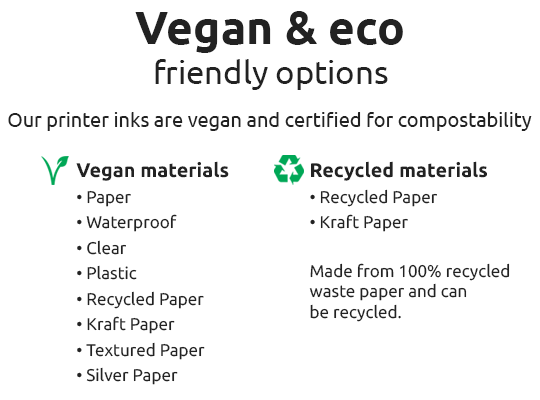 Make your own Personalised Square Labels
Are you a small business or individual looking to print your personalised square labels? You'll quickly find that there are lots of different choices out there, but we're here to make it as simple as possible. Square stickers are popular amongst a wide variety of our customers for many reasons due to our quality of product materials and a vast amount of sizes. If you would like our sample pack which shows you our product range vert clearly, get in touch in the form and we'll send you one in the post.
Sharing your journey with the customer is a great marketing tool and our square labels allow you to do just that by providing a large surface area for you to catch the eye of the consumer. Use this space to share those mouth-watering homemade flavours, smells and ingredients with your customers.
We've seen our square stickers stuck to everything from Prosecco flavoured lip balms and pumpkin spice bath bombs through to chocolate honey and Indian spices. There's no doubt they are an all-time favourite amongst our customers when it comes to labelling homemade products.
Top tip
In addition to homemade products, our square label also has the edge when it comes to wedding favours, thank yous and other personalised products too. Our customer feedback tells us that the square shape allows them to fit all of the information they need, whether it's baby photos of the bride and groom, a story of how they met, or both together, with our square sticker the sky is the limit.