Personalised Waterproof Labels & Stickers
Waterproof Labels made from White Teslin
Waterproof labels suitable for outdoors
Printed on easy to apply SRA4 sheets
The waterproof material is white, not clear
Extremely strong adhesive
-40C and 150C degrees. Submerge in ice and water
Personalised Waterproof Labels & Stickers
Waterproof Labels made from White Teslin
Waterproof labels suitable for outdoors
Printed on easy to apply SRA4 sheets
The waterproof material is white, not clear
Extremely strong adhesive
-40C and 150C degrees. Submerge in ice and water
Use our Designs and Templates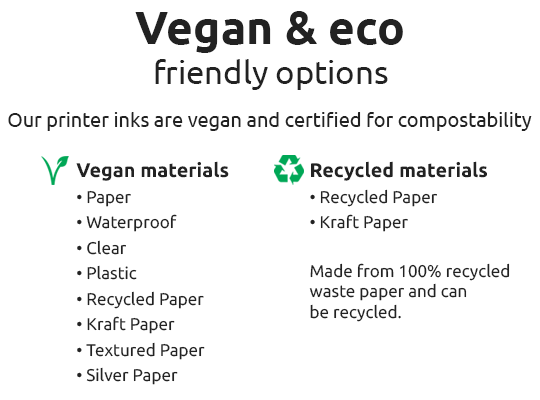 Make your own Personalised Waterproof Labels
Are you a small business or individual looking to print your personalised waterproof labels? Whether a homebrewing beer kit, a Mr & Mrs bottle of champagne for every table or a selection of the most unique garden furniture we have the perfect label for you. It goes without saying that our waterproof labels are, well, waterproof. But just how waterproof are they, I hear you ask…
Our waterproof labels have been created to combat the most unique of environments. Withstanding temperatures between -40 and 150°C, our waterproof labels have been tried and tested, and we can assure you, they also look perfect after being submerged in seawater for 90 days!
Not only is the material tough, durable and waterproof, but the inc we choose is anti-smudge, fade, tearing and scratch resistant! We can guarantee that your unique design will look (and stay!) first class come rain or shine. Made from the highest quality polyethylene, our waterproof labels won't let you down.
Top tip
Our waterproof labels are a great addition to a huge variety of products they are also oil and chemical resistant. If you're looking to label cleaning products or other chemical-based products, this is the label for you. However, they are also the perfect choice for shampoos, lotions and cooking oils. If you're unsure, get in touch with a member of the WePrint team who are on hand to ensure you get your label right first time around! We can also send out samples for free.