Personalised Hexagon Labels & Stickers
Create your own Hexagonal Labels
Quality Printing
Premium printing
45mm and 60mm sizes. 14 materials + 3 finishes
Easy to apply. Come on SRA4 sheets
Perfect for logos, custom product labels, stickers and messaging
Personalised Hexagon Labels & Stickers
Create your own Hexagonal Labels
Quality Printing
Premium printing
45mm and 60mm sizes. 14 materials + 3 finishes
Easy to apply. Come on SRA4 sheets
Perfect for logos, custom product labels, stickers and messaging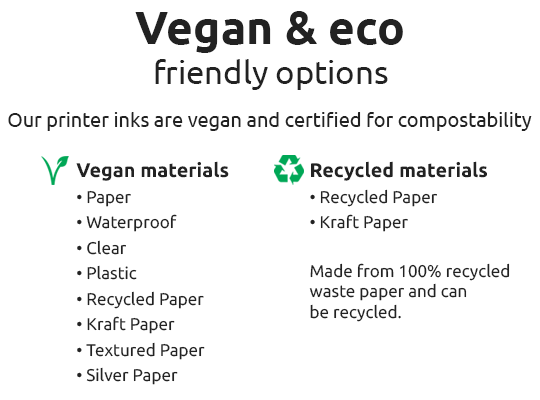 Learn more about materials for Labels & Stickers
Paper
Properties
Permanent adhesive
Splash proof
Hand writable without varnish
Biodegradable
Recyclable
Good to know
No varnish finish is ideal material for handwritten additions. A high quality and long lasting paper. Suitable for non-fatty moist foods.
Make your own Personalised Hexagon Labels
Are you a small business or individual looking to print your personalised hexagon labels? Our hexagon labels are a fun and trendy alternative to our more traditional square and circle labels, but no less effective. Although a little different, the hexagon shape can create a strong visual awareness of your brand meaning they are an ideal choice for outlining unique and personal messages with your customer.
Hexagon labels are a clear favourite amongst our many homemade food customers, especially those creating labels for their delicious honeys and jams. The hexagon shape provides a perfect amount of space for printing logos onto, and our wide variety of materials allow you to completely customise your label to perfectly suit the product inside.
Not only is the hexagon shape great for food products but they are also ideal for handmade cosmetics and wrapped candles too. Each and every label is personally checked by our passionate Avery WePrint team who are on hand to make sure that you are 100% happy with your label and get it right first time.
Top tip
We recently performed some research which showed that adding a label to your product or package along with a special message improves brand credibility and helps people recommend your product to a friend or family member. Our guide is full of handy tips to grab the eye of your customer.