Make Personalised Heavy Duty Stickers
Our Tough and premium stickers
High-quality ultra-resistant stickers
Premium printing
Our toughest material. 10 shapes + 2 finishes
Easy to apply. Extremely adhesive. On A4 sheets
-40C and 150C degrees. Submerge in ice and water
Make Personalised Heavy Duty Stickers
Our Tough and premium stickers
High-quality ultra-resistant stickers
Premium printing
Our toughest material. 10 shapes + 2 finishes
Easy to apply. Extremely adhesive. On A4 sheets
-40C and 150C degrees. Submerge in ice and water
Use Our Designs and Templates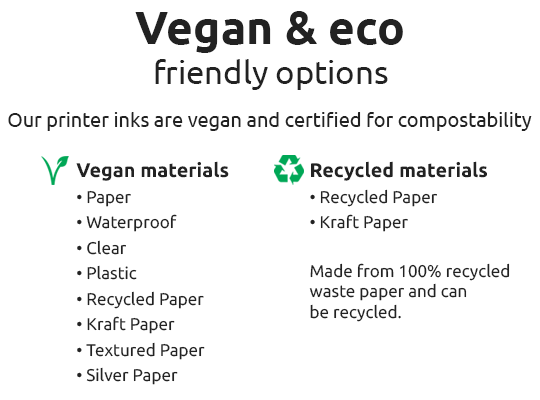 Make your own personalised heavy duty stickers
Are you a small business or individual looking to print your personalised heavy-duty stickers? Our waterproof material is the one for you. Don't let the name deceive you these are built to last. Its made from a unique material that looks and prints like paper but is as durable as plastic film. Its structure makes it absorptive yet water-resistant, soft and conformable but strong. Print quality on this is excellent as it soaks up ink leaving a brilliant colour behind. Bonus: our waterproof material is durable to not only the elements but also chemicals and abrasion. Need this to work in clean environments such as an industrial kitchen or lab? It's also steam sterilisable. The perfect long-lasting sticker. 

A label wouldn't be a sticker if it didn't stick and that's all down to the adhesive. Our heavy-duty stickers use a marine-grade permanent, acrylic-based adhesive. This makes sure your sticker stays on no matter what. 

Create your heavy-duty stickers today, choose from any shape and size, upload or create a design and we'll print and deliver it to you. Need help with a design? Use our hand free templates that you can customise.