Personalised & Custom Warning Sign Labels
Make hazards stand out
Use our free hazard templates
Premium printing
10 shapes, 10 materials and 4 finishes
Easy to apply. Come on A4 sheets
Perfect for logos, custom product labels, stickers and messaging
Delivery within 5 working days
Personalised & Custom Warning Sign Labels
Make hazards stand out
Use our free hazard templates
Premium printing
10 shapes, 10 materials and 4 finishes
Easy to apply. Come on A4 sheets
Perfect for logos, custom product labels, stickers and messaging
Delivery within 5 working days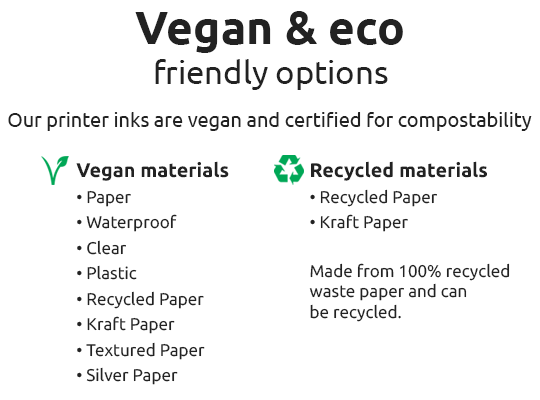 Make your own Personalised Warning Sign Labels
We help many factories, chemical companies and customers with personalised sign labels. Whether a small run of only two or a few hundred labels, choose from our six materials to find which suits you best. Many customers pick the 'waterproof' label material, it has the strongest permanent adhesive and a coating. This label can be submerged in ice, water or put in a freezer for days and won't budge. The ink will not run. Our A4 and A5 are the most popular size for customised warning signs, these rectangles are versatile and easy to apply from the A4 sheets.
If you have any questions about which materials to use for your label, just give us a call. All our labels are permanent on a wide range of surfaces including plastic, paint, wood, aluminium, metals etc. If you would like a sample pack that includes all our label materials so you can try on your try on various applications, then get in touch. We also send out a size and shape guide to help.
Maybe you want to tell customers about hazardous ingredients or products, maybe you want to warn people not to hit their head on low beams, maybe you want to send candles but need to make sure they're hitting regulation - that's why we have our CLP templates - or - maybe you want to include directions when shipping out your product so customers can tell what's inside. Take some inspiration online, design your label and start by uploading your label design onto the website and selecting the label you would like. We try and send all orders out in three working days.