Personalised & Custom Gloss Labels
Shiny, Stunning and High Quality
Make your Labels Shine
Premium printing
Available on 10 shapes and 10 materials
Easy to apply. Come on A4 sheets
Perfect for logos, product labels, stickers and messaging
Delivery within 5 working days
Personalised & Custom Gloss Labels
Shiny, Stunning and High Quality
Make your Labels Shine
Premium printing
Available on 10 shapes and 10 materials
Easy to apply. Come on A4 sheets
Perfect for logos, product labels, stickers and messaging
Delivery within 5 working days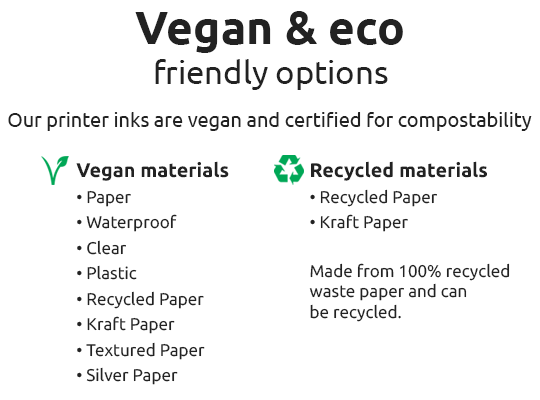 Make your own Personalised Gloss Labels
We offer completely customised gloss labels with your very own special design. Take a look at the label range where you will find we offer many gloss options. Whether you are running a small or large business we try our best to cater for everyone with low minimum order runs, this can be helpful so you can test against your product before placing a larger order.
All gloss labels have a permanent adhesive meaning you can apply your labels, leave the 24 hours and they will become reliable and long-lasting. Our gloss labels stick well to a variety of services including glass, bottles, cosmetics, plastics, jars and more. The gloss has a good protective coating added in production, this means your labels will be hardy and robust against more everyday situations. If a bit of water gets on them, you will be able to wipe them off.
Get in touch if you like a free sample pack. We will happily send out all materials, sizes and shapes so that you can choose which suits you before ordering. If you need inspiration for your label design, take a look around the website or use our templates to get inspired and start your creation.