Personalised & Custom Vape Labels
Create Professional Vape Labels
Take the Next Step with your Vape Products
Premium printing
10 shapes, 10 materials and 4 finishes
Easy to apply. Custom labels and stickers come on SRA4 sheets
Perfect for logos, product labels and messaging
Delivery within 5 working days
Personalised & Custom Vape Labels
Create Professional Vape Labels
Take the Next Step with your Vape Products
Premium printing
10 shapes, 10 materials and 4 finishes
Easy to apply. Custom labels and stickers come on SRA4 sheets
Perfect for logos, product labels and messaging
Delivery within 5 working days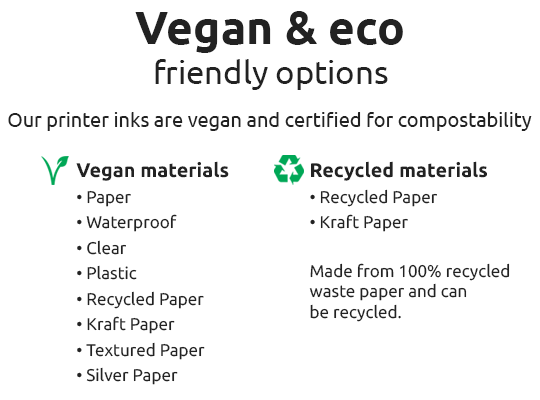 Make your own Personalised Vape Labels
Are you looking to customise your vape labels? We supply many vape producers across the UK with professionally printed labels to add to vapes. Whether you're looking to add a customised label to the front of the vape or add branded labels to your packaging, take a look at our range. We offer a very large selection of rectangles, in particular, look at the 45 x 12mm which is perfect for the thin tube of a vape. This can fit ingredients and product information, however, if you require more space take a look at a few large rectangle labels.
If you're looking for a strong, hardy and professionally slick label type then take a look at our personalised 'waterproof' labels. These are permanent and great if you think your vapes might be bashed around a bit in someone's pocket or in their handbag. The ink won't be run and the label is very strong and robust. Get in touch if you would like a sample to try out and we'll happily post it to you.
If you have your design ready then make your own completely personalised vape labels. Take inspiration online for font sizes or types, match them to your brand and remember simple is best when it comes to label design. Once your label is ready to go, upload and select your label type. Give us a call if you have any questions about our design or print service, we know sometimes it can be confusing so just give us a bell.