Personalised & Custom Labels for Envelopes
Create labels for your envelopes
Power up your envelopes
Premium printing
10 shapes, 10 materials and 4 finishes
Easy to apply. Come on SRA4 sheets
Perfect for logos, product labels and messaging
Delivery within 5 working days
Personalised & Custom Labels for Envelopes
Create labels for your envelopes
Power up your envelopes
Premium printing
10 shapes, 10 materials and 4 finishes
Easy to apply. Come on SRA4 sheets
Perfect for logos, product labels and messaging
Delivery within 5 working days
Use Our Designs and Templates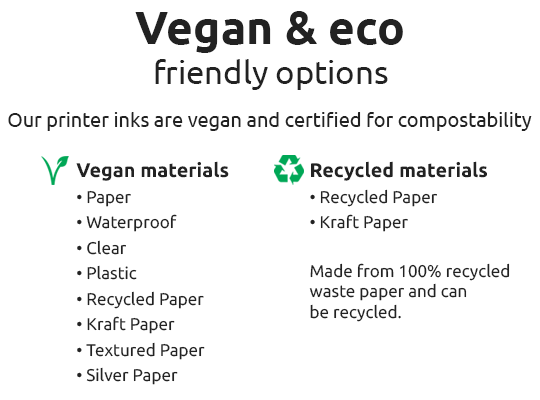 Make your own Personalised Envelope Labels
Envelope labels are perfect for branding your products with your logo, contact details or message. We offer many little envelope label sizes, in particular, take a look at our range including 38 x 21mm, 45 x 12mm, 50 x 30mm. These are all perfect to go on the back of your envelopes for your customers or friends to see. For the front, we would recommend 80 x 45mm or 76 x 51mm.
All our labels stick very well to paper so pick freely from all our material. We would recommend you use a paper variety if you wish the styling to look the same and in keeping with the envelope. If you think your envelope may come into contact with water it may be a good idea to pick a waterproof label.
To be a bit different from the crowd maybe consider sending an envelope label which is round or even a scallop. Maybe for the back seal, you could think about a heart if that is in keeping with your product or brand. We have a free sample pack with all our materials and shapes which we happily send out free to any customer who need a little help deciding to need help deciding. Please get in touch if this is you.